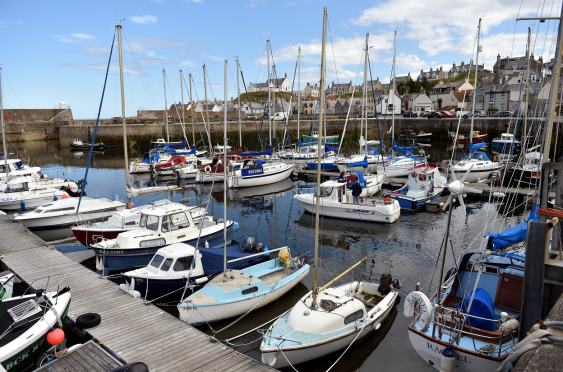 Moray Council has been accused of "penalising pensioners" after unveiling controversial plans to increase charges at the region's harbours.
The local authority is considering doubling pontoon tariffs and getting rid of an over-60s discount to throw financially failing ports a lifeline.
Officers believe the package of changes could net more than £50,000 in additional revenue every year.
But harbour groups have criticised the move, which could affect scores of boat owners.
Buckie councillor Gordon McDonald has vowed to fight the proposals when the authority's economic development committee meets next week.
He said: "Approving both increases will mean people get hit with a double-whammy, I believe we should explore alternatives that are less painful for those harbour users."
Last year, it emerged the local authority's six ports – Buckie, Findochty, Portnockie, Burghead, Hopeman and Cullen – were operating at a collective loss of about £135,000.
Council officers were asked to shake-up the system to make Moray's harbours "self funding", and have devised a raft of proposed pricing changes.
Transportation manager, Nicola Moss, has compiled a report which will be presented to elected members on Tuesday.
Under the suggested changes, boats owners would be charged for berthing in accordance with the size of their vessel, and their position in the port.
The report recommends that pontoon berthing should be priced highest, and that costs for places beside the harbour wall be lower.
Councillors will be asked to decide on three possible pricing structures.
Option one features the lowest increases, and would bring in an added £17,836 each year.
A second choice would increase profits by £33,831, and a third by £51,421.
The first option would mean increasing pontoon rates from £40 to £50 per metre (just over 3ft), and option two would mean an increase to £60.
Option three would mean doubling charges from £40 to £80.
If it was applied – coupled with the removal of a 25% over-60s discount – the council would make more than £120,000 from the area's harbours every year.
The Hopeman and Burghead Harbour Association Committee has urged the council not to revoke the discount for older sailors.
Chairman of the Hopeman Boat Owners Association, Phil Mowat, said: "The subsidy helps over-60s maintain a boat within their budgets, and encourages them to be active in an outdoor activity and in the local community.
"The loss of the discount could potentially mean a doubly expensive rise, which would impact on the number of members prepared to continue.
"This could create a loss of activity at the harbour, particularly
during the working week, with fewer retired members operating there."
Findochty harbour user, Duncan Macrae, said he would "strongly campaign" against the concession being withdrawn.
And Councillor McDonald, who is the chairman of both Buckie and Findochty's harbours advisory committees, is now working on an alternative option which he will ask councillors to back.
He said: "Doubling the price of pontoon hire and removing the concession for senior citizens would leave dozens of users with a 125% increase in cost.
"That's where it becomes really hefty and some people will be hit with a hell of a bill.
"I'm working on a new proposal that I think will be more palatable."
Mr McDonald believes discounts for older users could be gradually phased out, rather than axed.
However, some harbour groups support scrapping discounts for users older than 60.
Mairi Innes, Commodore of Findochty Water Sports Club, said the majority of boat owners in the village were older than 60 and "can well
afford their hobbies".
Portknockie's Brian Donaldson raised concerns the discount was open to abuse by younger people naming older relatives as boat owners on official forms.