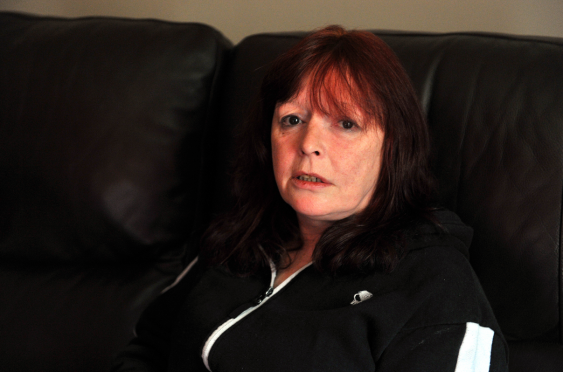 A  woman sexually assaulted "hundreds of times" by her babysitter has urged other victims to speak out – and spare themselves years of torment.
Edna Booth was subjected to a seven-year campaign of abuse by Alexander Graham.
He started targeting her when she was just six and he was supposed to be looking after her.
What began as "playfulness" quickly turned into a traumatic ordeal which ruined Miss Booth's life.
Sixty-six-year-old Graham is now serving an eight-year jail sentence after being found guilty of preying on her repeatedly.
And she has waived her right to anonymity to urge others who are being abused not to suffer silently.
Miss Booth, who stays in Forres, refused to give evidence from behind a screen during Graham's trial at the High Court in Glasgow.
She said: "I know a lot of people can't face their abusers. I had to fight to take it to court after all these years so I had to face him. I couldn't have hid behind anything.
"I was just so angry. He just stared at me. There was no reaction on his face. I don't think he wanted to fight it any more.
"That man destroyed my life. It's like I've been living in a bubble. I've pushed away so many people that have been close to me. All I want to do now is say sorry to them. I didn't believe I could be loved.
"I just broke down at the verdict. Every time they said 'guilty' it was like the demons were coming out of me.
"It was because I was finally believed – that's all I ever wanted."
A jury convicted Graham, of North Grampian Circle, Aberdeen, of four charges involving Miss Booth, including forcing her to commit sexual acts and exposing himself to her on various occasions between 1970 and 1977.
Graham was a family friend and Miss Booth was sent to the neighbour's house in Aberdeen to be looked after.
But her babysitter soon became her abuser.
She said: "I was just a little girl. I didn't know what was going on. We would be just playing around in the bed and that's how it started.
"I just thought it was a normal thing to happen. I didn't realise it didn't happen to other people.
"You can imagine the burden of living with this for so long. It's just sickening."
Miss Booth moved away from Aberdeen and started trying to rebuild her life in Manchester.
But her recovery was blighted by violent partners.
She moved to Forres about a year ago and now believes she is getting stronger after facing her demons.
But she believes others could be saved years of torment if they are encouraged to speak up sooner.
Miss Booth said: "The trial was closure for me. I don't feel strong yet but I know I'm going to get there.
"I've spoken to lots of women who have gone through the same thing but they're scared. They're scared they won't be believed.
"The biggest problem is that abuse happens one-to-one.
"Only the victim knows about it – but if more people speak up then there can be patterns built up and it can get taken to court.
"I know it's difficult, it's not the kind of thing you can bring up in conversation, but it's the only way to make these people face justice."