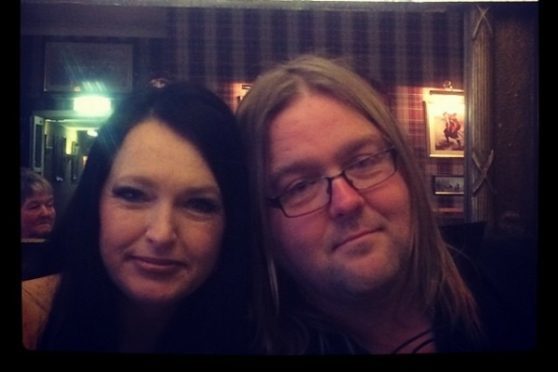 Thousands of pounds have been raised to allow a Moray motorcycle fan to have one final ride after his tragic death.
Buckie lorry driver Steven Logan died suddenly on October 28 following complications with a blood clot.
Medics battled to save the 41-year-old, who was known as Loggie, after he fell ill while driving on the M8.
He was taken to hospital in Kilmarnock with the left-side of his body paralysed but he died just 36 hours after calling an ambulance from his cab at the side of the road.
Following his death friends raised nearly £3,500 to cover his funeral costs which allowed him to be carried to his final resting place in a motorbike hearse.
A leather-clad procession of around 35 bikers stood to honour him as he was driven away in a glass-covered sidecar.
Yesterday Mr Logan's widow Christine said she was shocked by the amount of money raised for the family following the tragedy.
The 48-year-old said: "Steven was meant to be on a bike, it was like he was at one with it when he was riding.
"He went everywhere on it – Ullapool, the Lecht – but he loved the Mulben to Craigellachie road with the twists and turns.
"We were just going to have a normal funeral but one of his best friends, Jonny McLean, had a motorbike hearse three years ago. His friends took it on and organised it. It couldn't have been better."
A collection following the funeral raised more than £1,000 for Diabetes UK as Mr Logan and his mother both suffered from the disease.
The motorbike enthusiast, who had been a regular for races at Knockhill for 20 years, is survived by his wife and three children – Freya, 5, Keila, 4, and Aedyn, nine months.
Mrs Logan said: "It all happened so suddenly and was such a shock. He had a sore back for a few weeks but blood tests from the doctors came back negative.
"The thing is you never know what's going to happen with blood clots. They did everything they could for him."