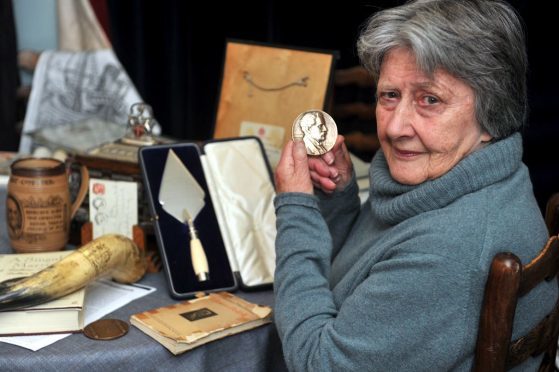 An exhibition celebrating two favourite sons from a Moray town has been organised by his descendants.
Hand-written notes from famous names sent to former prime minister Ramsay MacDonald will take centre-stage in Lossiemouth's this week.
Rarely seen pictures of the town taken by renowned photographer and journalist Alexander McKilligan in the 19th Century will also be on display.
The exhibition, which has been organised by the duo's granddaughters Iona Kielhorn and Joyce Mitchell, will share some private memos between Mr MacDonald and world leaders of the time.
Mrs Kielhorn moved into the former prime minister's house on Moray Street in Lossiemouth about 10 years ago and has discovered fascinating items during that time.
And Mr MacDonald's granddaughter intends to be at the exhibition throughout its two-day run to tell stories which offer a deeper glimpse into the life of the politician.
He was prime minister in 1924 and from 1929 to 1935.
She said: "There is a real treasure trove here. Once I opened a drawer and found a bit of paper that was signed Mahatma Ghandi. Those are the sorts of things I have found in this house, there is so much."
Other items include notes from Peter Pan author James Barrie writing as the main character from the timeless novel and letters from his friend John Buchan, who penned The 39 Steps.
There are also ceremonial gifts to Mr MacDonald from cities where he was granted the freedom of, including Inverness and Leicester, after he became the first Labour prime minister.
Mrs Kielhorn, who is president of Lossiemouth Heritage Association, was inspired to organise the exhibition after a visit from Mrs Mitchell.
She said: "Joyce had brought round all these pictures by her grandfather and I couldn't stop oohing and aahing at the them.
"There are some fascinating pictures of Lossiemouth from the 19th Century that people will never have seen before. It offers a new perspective."
Mr McKilligan worked for newspapers in Moray before moving to Aberdeen's Evening Express and publications in Glasgow.
The photographer made his name after covering the Tay Bridge disaster in Dundee in 1879 and the Blantyre coal explosion in 1877.
The exhibition runs in Lossiemouth's town hall tomorrow from 10am to 8pm and on Wednesday from 10am to 5pm.