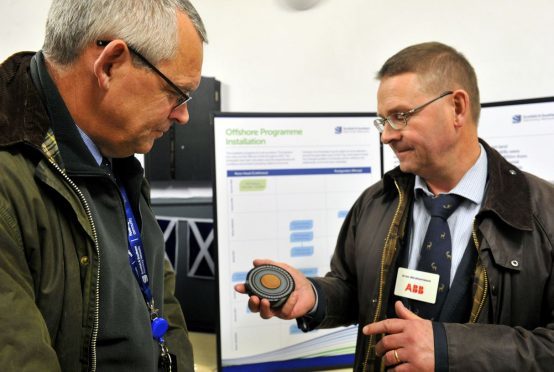 A massive £1.1billion project to build an underwater powerline from the Moray coast is surging ahead at the forefront of a renewable energy boom.
Scottish and Southern Electricity Networks (SSEN) is preparing to burrow into the seabed, at the start of 2017, to create a trench up to 90 metres beneath the surface of the Moray Firth.
A sample of the powerline, which will stretch for nearly 100 miles, captured the interest of visitors to a public exhibition about the venture in Portgordon yesterday.
A compound has been built on the coast, less than a mile from the village where the cable will reach land after beginning its journey north of Wick.
Brian Mitchell, SSEN's project manager, explained the scheme was vital in ensuring that green power generated in the north of Scotland from wind farms was made available across the whole country.
He said: "There's been a big upsurge in renewable energy in Caithness. It's not needed so much there, but it's needed in the central belt.
"If this project didn't go ahead, then the power would be severely constrained. A lot of the projects have already been consented and there could be a monumental amount of claims if this didn't happen."
The underground cable, which is expected to be completed by the end of next year, will stretch from Caithness to the Blackhillock substation near Keith – where it will connect to the National Grid.
Local MSP Richard Lochhead said: "It is important that Moray is kept fully informed of the progress of these large scale energy infrastructure projects.
"I will shortly be having further meetings with SSEN to discuss what the projects will deliver in terms of community benefit, local economic activity and how they will take into account the needs of local fishermen."
Portgordon resident Maureen Burrows said: "It's interesting for everyone in the village to follow the progress of it. I've been to a few of these meetings and it's all been done with great consideration."
Members of the team behind the offshore Beatrice wind farm were also in Portgordon to answer questions about the 86-turbine project.
Further exhibitions will be held in the North Parish church hall in Buckie today and in Mackays Hotel in Wick on Thursday. Both events run from 3pm to 7pm.