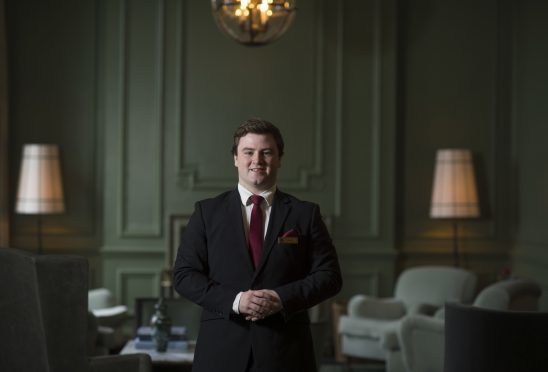 Cameron Baxter is a real broth of a boy.
And the Moray-born grandson of Gordon and Ena Baxter, the entrepreneurs who built a global soup empire, is in the running for a national hospitality award.
The 20-year-old took his first steps into five-star service in Fochabers with the family firm that bears his name – and has credited his early experience with laying the foundations of his career.
After starting out with a job in the Speyside company's shop, the Elgin man caught the hospitality bug and is working for the five-star Gleneagles Hotel.
His efforts at the resplendent Perthshire accommodation have now landed him a nomination to be named as the receptionist of the year.
He explained: "I got my first job at the Baxters retail outlet, stacking shelves when I was 12, and then after a couple of years, I got promoted to the restaurant.
"It was at this point, when I looked forward to interacting with guests every day, that I had a lightbulb moment and realised I was born to work in hospitality.
"From my grandparents, I learned the most fortunate people in life are the ones who find a job they really love – where it's a pleasure to work hard."
Mr Baxter joined the hotel straight after leaving school as part of an apprenticeship scheme and has subsequently filled a variety of roles.
This includes spending time as a housekeeper, waiter and a chef before finding his niche as a star receptionist at the beginning of the year.
The Elgin native is now the welcoming face for guests arriving at the luxurious 850-acre estate set beneath the spectacular Ochil Hills.
He is the only Scot among seven finalists for the national award with the winner being announced at a ceremony in London on Monday, December 12.
Mr Baxter added: "It's an honour to make it to this stage of the competition. The Gleneagles team is like a big family; we all support each other and I am continually learning from my colleagues – so reaching the final is as much about the team as it's about me.
"I am very fortunate to know, at the age of 20, what I want to do already, and the career opportunities in the hospitality industry and here at Gleneagles are fantastic.
"I have friends at university doing four-year degree courses who aren't sure what they want to do after graduating, whereas I've known since childhood that working in hospitality was the only path for me."
Paul Heery, Gleneagles' general manager, said: "Facilitating five-star hospitality demands a broad skillset, a dedicated approach to work and high levels of professionalism – Cameron has impressed the whole team and proved he has all these attributes in great abundance.
"We are immensely proud to see his efforts and talents have been recognised in this prestigious competition."