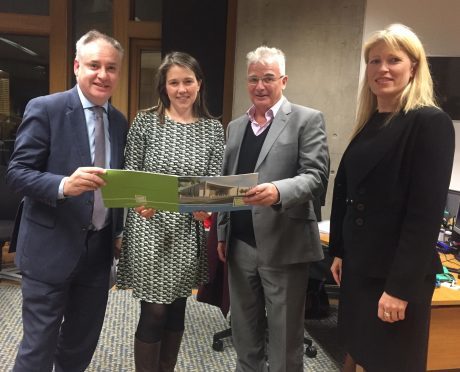 Plans to create a new sports haven in Elgin have secured the support of Public Health and Sports Minister Aileen Campbell.
Ms Campbell is poised to join the crusade to help fund the construction of the Moray Sports Centre.
Members of the Moray Sports Foundation, the charity behind the scheme, have travelled to Edinburgh to present the MSP with their outline for the £12million venue.
Project leader, Kathryn Evans, said: "We've been campaigning for funding, and Aileen Campbell's support would bring us closer to our £12million target.
"I'm optimistic of the outcome, it would be amazing to have the minister on board with the cause.
"With this project we have a great chance to improve sporting facilities in Moray, and bring more people to the area."
Moray MSP Richard Lochhead has led calls for a new sports centre in the area for years, and arranged the summit.
He said: "I am well aware of the excitement around the project, and how the development would transform leisure provision in Moray.
"The minister was very supportive, and was clearly impressed by the plans."
The chairman of Springfield Properties, Sandy Adam, unveiled his vision for the centre last year.
While not directly linked with Springfield, Mr Adam will match-fund the venture and it is slated to open in 2018 should it attract sufficient funding.
The site will boast six tennis courts with a transparent plastic roof, two rugby pitches and a 1K running track.
Its gym will be more than double the size of any in Moray, and will contain about 100 pieces of equipment.