A group of green-fingered Moray youngsters have planted hundreds of bulbs to brighten an estate garden for decades to come.
Pupils from Milne's Primary School in Fochabers visited Gordon Castle, on the outskirts of the village, yesterday to hone their gardening skills.
Almost 30 children, aged between five and nine, donned woolly hats and gloves as they braved drizzle and cold temperatures to dig out small plots for the flowers.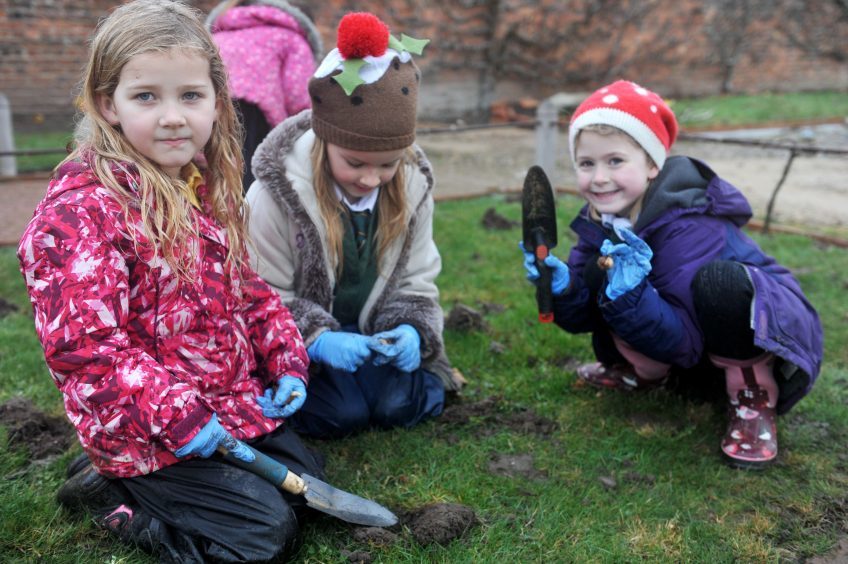 And they used their wellie boots to stamp down on the earth to ensure the bulbs were bedded in.
The pupils will monitor the growth of the crocuses as they sprout in the eight-and-a-half acre walled garden next spring.
And Gordon Castle hopes to welcome the group back as they grow up, so that they can revisit the plants as they flower every year.
P1/2 teacher at Milne's Primary School, Sarah Newton, said her pupils were overcome with excitement at the outing.
She added: "They love that they will be able to come back and see their own plants."
The youngsters were all gifted a bulb to take home and plant in their own gardens, as a reward for their hard work.
More than 20,000 crocus bulbs are being sewn across the walled garden, as part of plans to regenerate it over the next few years.
Head gardener, John Hawley, said: "We thought it would be nice to involve the children, as they can come back see them every year from here on in.
"We want to have crocuses planted right around the perimeter, there will be tens of thousands eventually."