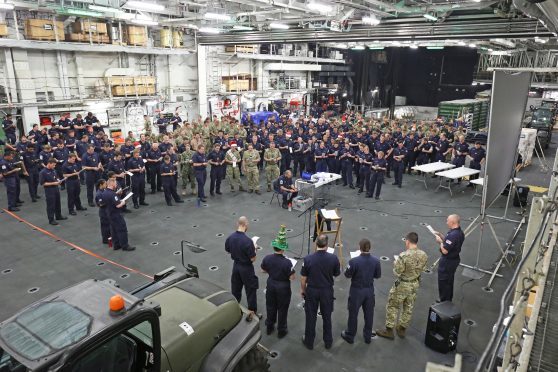 Members of the armed forces deployed around the world have sent messages home to loved ones for Christmas.
Nearly 7,000 personnel are spending the festive season away from home while on assignment.
Crews from RAF Lossiemouth will spend Christmas in Cyprus while continuing to take the fight to Daesh in Iraq and Syria every day.
On Wednesday, Typhoons from the Moray base destroyed a building held by the terrorist group in Iraq that was housing a stockpile of improvised bombs.
Army troops from 39 Engineer Regiment in Kinloss are currently stationed in the Falkland Islands in the Atlantic Ocean off the coast of Argentina.
But it is not only abroad that armed forces will be alert and ready to answer the call of duty.
Squadrons at RAF Lossiemouth will be spending Christmas Day in their green flight suits ready to be scrambled to stop intruders threatening UK air space.
Defence Secretary Sir Michael Fallon said: "For our armed forces duty never stops and we pay tribute to the unerring determination and professionalism in dealing with the threats Britain faces.
"This Christmas, like any other day, our brave servicemen and women are securing our skies, patrolling the seas and hitting Daesh terrorists hard.
"At Christmas, it's particularly important to take a moment to think of those deployed on our behalf across the globe and to let them know how grateful we are for everything that they do to keep Britain safe."