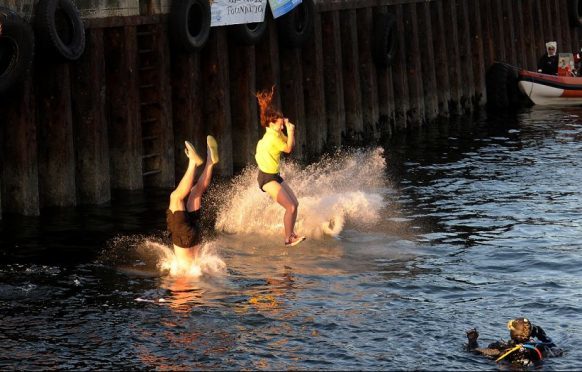 More than 100 hardy swimmers are expected to take part in one of Moray's chilliest festive traditions.
Residents in Burghead have been marking Boxing Day with a dip in the North Sea for 30 years.
And although the event's future was put in doubt after the organising committee was hit by resignations earlier in the year, their new president Jamie Campbell stepped into the breach and believes it is now as strong as ever.
He said: "The response from everyone has been just magic this year – whether it's volunteers wanting to help or organisations coming forward for funding.
"The businesses in Burghead really support it too. It just wouldn't feel right to have Boxing Day without it here.
"We've changed a couple of little things this year, such as where things like the first aid tent are. We didn't want to change too much though because it works the way it is."
Crowds of up to 1,000 people have gathered on the quayside in recent years to watch dozens of swimmers plunge into the water from the pier.
Entrants, many in fancy dress, have braved wintery weather to traverse the harbour before returning to dry land.
Organisers are confident this year's event will go ahead despite weather warnings for strong winds on Boxing Day.
Since the event began in 1985, more than £250,000 has been raised for worthy causes with this year's donations split between the Elgin Pipe Band, Burghead Community Hall, the Ladybird Group and Logan's Fund.
The first of the swimmers will splash into the water at 2.30pm on Boxing Day.