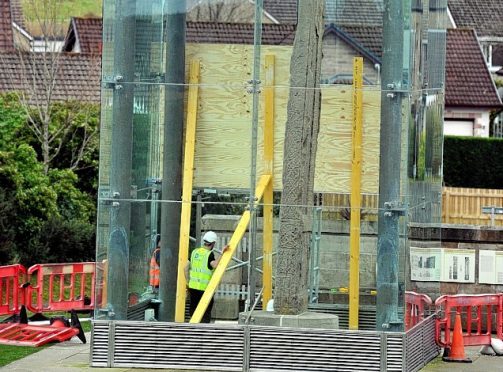 Vandals have caused more than £10,000 worth of damage at one of Moray's most historic attractions.
A huge glass box surrounding the medieval Sueno's Stone in Forres was smashed by "idiots" hurling stones at it.
The 21ft standing stone is one of the town's most famous features, and is thought to date as far back as the 9th century.
Yesterday, parts of the casing were boarded up by local joiners, although Historic Environment Scotland said the three panels which had been shattered "might take some time to replace".
The monument itself does not appear to have been damaged.
The culprits are believed to have struck on Wednesday night, and the damage was discovered the next morning.
Forres councillor George Alexander said the glass panels had been shattered into a "million pieces" in an act that had obviously been pre-planned.
"Whoever did it came there with that purpose in mind, there was a pile of about a dozen sharp stones nearby that had clearly been taken to the spot," he said.
"I have no idea why this has happened, but it wasn't just done on an impulse.
"The panels had been shattered into a million pieces, though two of them were left in place.
"They looked like they could be quite dangerous were they to fall down, so I'm glad they have now been boarded up.
"It's very disappointing, but it's a fact of life that no community is free from idiots carrying out vandalism."
Police last night urged anyone with information about the incident to come forward.
Constable Jamie Walker said: "It is disappointing for the community that this has happened, and this type of behaviour will not be tolerated.
"We are appealing to anyone who may have seen anyone acting suspiciously in the area at the time."
The stone falls under the auspices of Historic Environment Scotland, and one of its experts arrived in Forres on Thursday to survey the damage.
A spokesman said: "The monument itself doesn't appear to have been affected, but it may take some time to replace the protective glazing which was seriously damaged.
"Our conservation staff have been working alongside counterparts from Moray Council to make the site as safe as possible.
"Damage to such a nationally important monument is a criminal offence and we will provide any assistance we can to help police with their inquiries."
Sueno's Stone stands on the outskirts of Forres, near the roundabout between the B9011 road to Findhorn and the A96 to Elgin.
It weighs more than seven tonnes, and is the largest surviving Pictish stone of its type in Scotland.
Historians disagree on which battle its carvings are intended to commemorate.
Some say they represent the defeat of the Picts by the Scots of Dalriada under Kenneth MacAlpin in 841.
But others maintain the slab depicts a battle involving the forces of the Norse King Swein "Sueno" Forkbeard against the Scots – which explains the name it has become known by.
Other theories involve encounters between Norse and Picts, or Norse and Scots, or the battle known to have been fought at Forres in 966 in which King Duff of Alba fought for control over Moray.
The slab was encased in armoured glass to prevent erosion and graffiti in the early 1990s.
Mr Alexander, who is also the chairman of Forres Heritage Trust group, said Sueno's Stone was "synonymous" with the town.
He added: "It is quite an attraction, people visit especially to see it."
Anyone with information should call the police on 101.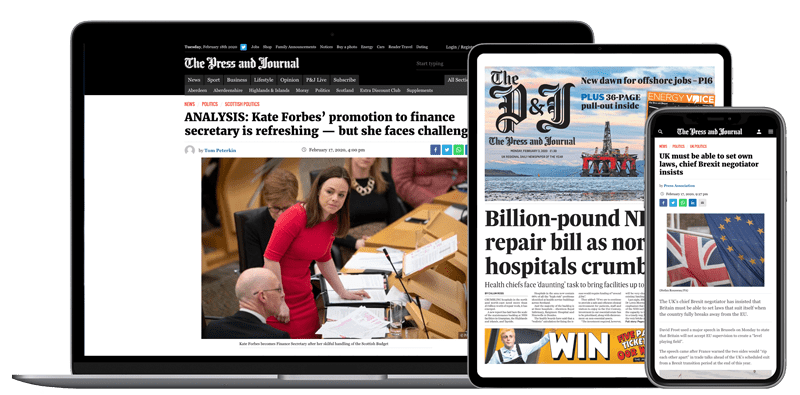 Help support quality local journalism … become a digital subscriber to The Press and Journal
For as little as £5.99 a month you can access all of our content, including Premium articles.
Subscribe