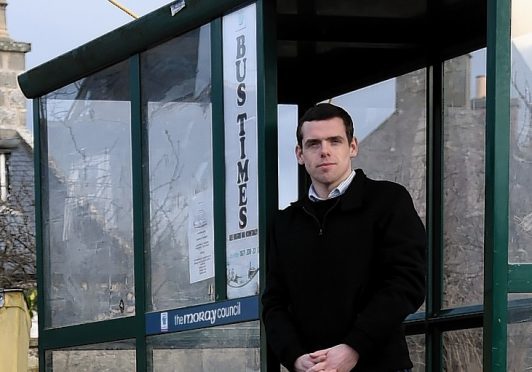 Moray bus users have been warned there is no end in sight to problems which have left some commuters enduring freezing hour-long waits between services.
Highlands and Islands MSP Douglas Ross called for Stagecoach to scrap a string of controversial timetable changes late last year, after being inundated with grievances from Moray residents.
Mr Ross said that some customers travelling from rural areas to Fochabers, en route to Aberdeen, had to wait in the village for too long before the next stage of their journey.
He was alerted to the problem by residents in Spey Bay, Portgordon and Clochan – and claimed that patients travelling to Aberdeen Royal Infirmary were among those affected
Mr Ross also highlighted complaints about the number 38 service between Elgin and Buckie, and demanded that all buses from Elgin to Aberdeen had toilets on board.
But he yesterday confirmed that Stagecoach's response to the concerns "did not make positive reading".
The firm's managing director, Mark Whitelocks, told the Conservative MSP that it would be "impossible" to satisfy every customer.
Mr Whitelocks added: "We shall consider the timing of the 10 service in future revisions, however we currently time buses to achieve arrivals at and departures from the main destination points, at the times that are most popular.
"It is almost impossible to design services that meet the needs of every person intending to use them.
"Unfortunately, we are not at a stage where we can offer toilets on all 35 service journeys, but are working towards that."
Last night, a fuming Mr Ross spelled out his intention to put residents' grievances to the firm's bosses in person.
He said: "The reply does not make positive reading for many of the constituents who came to see me with concerns.
"I am not reassured that the regular disruption some Stagecoach customers have outlined to me will stop.
"Given the significant number of issues I raised with Stagecoach, and the fact that I can't be satisfied for my constituents, I will be meeting Mr Whitelocks to see what can be done to improve things."