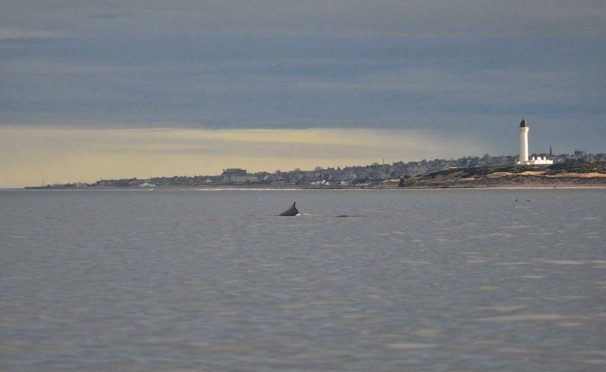 A pair of humpback whales, who have attracted more than 1,000 people to the Moray coast in a few days, could become a tourist attraction for months to come.
The majestic creatures have captured the imagination of the county, with residents of all ages flocking to Burghead and Hopeman to watch them.
Wildlife enthusiasts have confirmed the same duo previously stayed off the coast of Aberdeen for three months, and predicted they could become a fixture in the Moray Firth for a similar period.
The visitors are believed to be a mother and her calf, and are roughly 60ft and 45ft in size.
Yesterday, dozens of windswept locals joined members of the Whale and Dolphin Conservation (WDC) charity's Shorewatch team at the Burghead Visitor Centre to watch them.
The crowd gasped as the giant mammals crested above the waves, and shrieked with delight as they raised their huge fins into the air.
During one thrilling display, the whales broke the surface of the water five times in quick succession.
WDC Shorewatch expert, Steve Truluck, said: "To see the whales throwing themselves out of the water at this time of year is pretty remarkable.
"The response has been insane, we have had hundreds of people lining the coast at Hopeman and Burghead.
"The whales are known to spend about three months in certain places, so we are hopeful they will make Moray their home for a while."
Fellow volunteer, Adele Sutherland, added: "You never know what you will see off the Moray coast, so many people have enjoyed watching these beautiful animals."
Portknockie's Alex Theodorou reported seeing a giant humpback whale on New Year's Day, and it is believed to have been one of the pair.
Mr Truluck subsequently spotted one "pirouetting" out of the sea on Friday, from his Hopeman home.
As word of their presence spread, more than 1,000 people flocked to the coastline to catch a glimpse of the massive animals.
Humpback whales were once hunted to the brink of extinction in Scottish waters, but there has been an increase in sightings recently – with 20 reported last year.
However, it is unknown whether this represents an increase in population size, a shift into Scottish waters, or more vigilant reporting from the public.