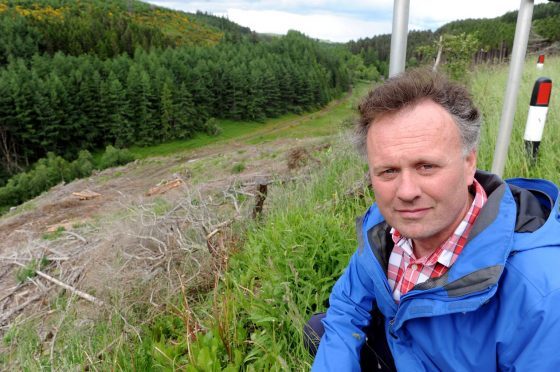 Hundreds of Speyside residents have pledged their support to a campaign to have crash barriers installed at a notorious bend.
Activists have been calling for extra safety measures on the B9014 at Parkmore Brae since trees were felled, opening the possibility for cars to plunge down the steep slope.
Now a petition with nearly 700 names has been handed into Moray Council.
But the authority has resolutely stuck to the position that barriers are not needed.
The strength of feeling means the campaign could now be considered by councillors.
Dufftown Community Council secretary George Tulloch is hopeful their pleas could win their backing.
He said: "The fear is we could have a situation like what happened on the M9, where a car crashed and wasn't found for days, especially at this time of year with icy roads.
"The railway at the bottom of the slope isn't in operation every day and if a car went down there on Monday it could be the weekend before it's found.
"A tragedy is bad enough but if your nearest and dearest are lying there for several days it doesn't bear thinking about."
Despite anecdotal stories from locals of crashes on the bends near Dufftown, Moray Council insists there is not a strong enough case for barriers to be installed.
The authority has already issued warnings to encourage drivers to slow down when approaching the corner, which is on the main route between the Speyside town and Keith.
Mr Tulloch added: "There's a history of accidents in that section. I don't know whether it's not being reported or if it's spread along a longer section but I've heard several complaints."
Residents from Dufftown and the surrounding area were quick to pledge their support to the cause when the petition was put in shops and businesses.
Moray MSP Richard Lochhead has praised the efforts of locals in collecting the signatures and urged the council to think again about adding more safety features.
He said: "Knowing the road well, I have been vocal in my support for the community's campaign and have raised this issue on a number of occasions with the council's chief executive and with the local police.
"To have gathered nearly 700 signatures shows the strength of feeling in the community and I would urge those involved in considering their petition to take on board the views of the public and those who regularly use this road."
Yesterday a spokesman for Moray Council insisted their position had not changed and said they did not believe safety barriers were needed at the bend.
He said: "We have received a petition from Dufftown and District Community Council and it will be considered in line with our agreed procedures for dealing with petitions."