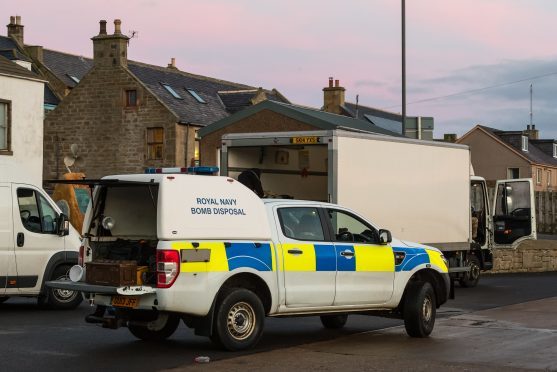 Bomb squad experts have delicately moved an unexploded missile towards the Moray coast as they prepare to detonate it.
The badly corroded projectile, which is five-foot long, became snagged on a vessel in the Moray Firth.
Seamen dropped the explosive overboard about five miles off the coast of Burghead before calling specialists.
The Navy's bomb disposal team was at the village today to make the World War II weapon safe before moving it closer to the coast.
The missile will be detonated in a controlled explosion tomorrow.
A Navy spokesman said: "This is standard operating procedure when wartime equipment is snagged by vessels.
"The projectile was discovered on January 7. At the time investigations were done put the weather deteriorated. It was made safe and the teams returned today to move it to another location to prepare for a controlled explosion tomorrow."