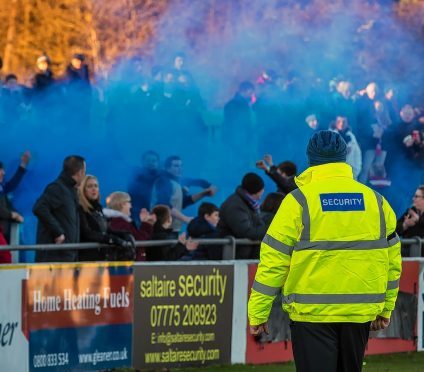 Police have launched an investigation after ugly scenes erupted between rival football supporters following a derby clash.
Emotions ran high during the Scottish Cup fourth round tie between Elgin City and Inverness Caledonian Thistle on Saturday afternoon at Borough Briggs.
The visiting side won 2-1, with Lonsana Doumboya sealing victory for the Caley Jags in the 65th minute.
Security crews and police managed to keep disorder to a minimum during the game, but tensions later spilled over into violence between the fans in the centre of the Moray town.
Footage of the skirmish, which took place at a tunnel beside Elgin bus station, emerged online on Sunday evening.
The clip lasts 10 seconds and shows sets of youngsters flinging punches and grappling with one another.
It also captures fans being thrown against railings and kicked while lying on the ground.
The video has been watched more than 170,000 times on a social media page dedicated to Scottish football supporters.
Yesterday, police issued an appeal for information on those responsible for the violence.
Moray's divisional commander, Stewart Mackie, said: "We have been made aware of the videos circulating on social media from after the game, and would encourage anyone with information to contact police as soon as possible."
City chairman, Graham Tatters, declined to comment on the matter but said it should not be allowed to tarnish what was a "fantastic occasion" for the club.
The rivalry between supporters in Moray's biggest town and the Highland capital precedes the merger of Inverness Thistle and Caledonian FC, when all three sides competed in the Highland League.
Kick-off was delayed by 10 minutes on Saturday as almost 4,000 people surged into the ground for the hotly anticipated match.
Saltaire Security staff were hired to keep supporters in line during the tie.
Head of the company, Steve Robertson, said they mainly had to deal with "friendly banter".
He said: "From our point of view, it was largely a friendly atmosphere.
"Whilst there was a bit of banter, it was mostly friendly, which is to be expected with a crowd of that size."
Anyone with information on the trouble should call the police on 101, or the Crimestoppers charity on 0800 555111 if they would prefer to remain anonymous.