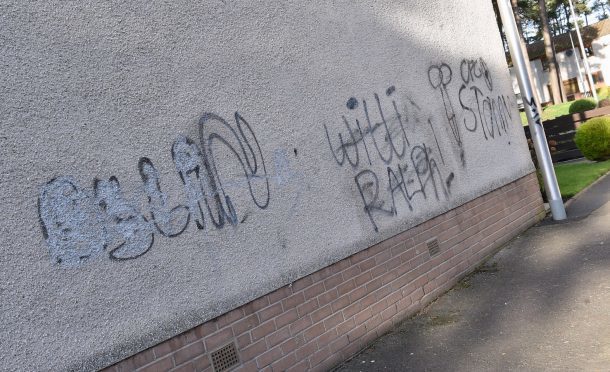 A Moray community has condemned vandals responsible for spraying "disgusting" graffiti on the walls of a house belonging to two pensioners.
Residents in Elgin's Waulkmill Grove said they were appalled when they realised fences and homes had been daubed with crude images and sectarian slogans over the weekend.
And they said the worst of the damage had been done to the property of a popular older couple, who will now have to fork out to have the obscene drawings scrubbed off.
Police launched an appeal for information yesterday, and said they were especially interested in speaking with a group of young people seen around the area at the time.
Constable Gemma Low said: "Seven houses in Waulkmill Grove had their fences vandalised and have had graffiti sprayed on them.
"The cost of damage to the fences is yet to be established, but the residents were understandably very upset on discovering it.
"We are following a positive line of inquiry but are appealing for anyone who saw anything to contact us.
"I am aware that a group of youths were present at the time, and I would urge anyone who witnessed the events or has information to contact us."
It is understood the graffiti was sprayed at about 10.30pm on Saturday.
Angry residents yesterday lashed out at the culprits, noting that the area had become a target for vandals in recent years.
One woman, whose home escaped unscathed, said: "It used to be really quiet around here, but a lot of people now walk through this street and a few years ago someone had their front window smashed.
"It's awful what's been done to the wall, we think it was kids who don't understand the upset they can cause."
Another neighbour said: "This is a really horrible thing to have happen to older people.
"The graffiti is disgusting, and I hope the police track down whoever did it."
One resident criticised the offensive drawings, adding : "It's not exactly Banksy is it?"
Anyone with information should contact the police on 101 or, if they wish to remain anonymous, to contact Crimestoppers on 0800 555 111.