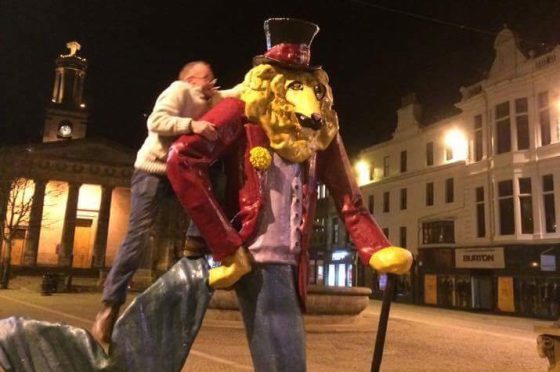 The artist behind a colourful statue in Elgin has warned people not to climb the 10ft monument after a man fell from it and cracked his head open.
It is understood that Alan Dean suffered internal brain bleeding when he tumbled awkwardly from the Dandy Lion after scaling it late on Saturday night.
Photographs showing his ordeal were posted online, and have been viewed by thousands of people.
And the sculptor who spent months labouring over Elgin's eye-catching new addition has pleaded with residents to take heed from Mr Dean's accident.
Vik Quickly said: "The statue is pretty huge, and there are cobbles at the bottom, so climbing on it is not a clever thing to do.
"The consequences could have been far more serious for this man, and I want to put that warning out there.
"And at the end of the day, he's a piece of art and shouldn't be treated like that – it isn't good for him."
Elgin City South councillor, John Divers, said he was shocked when he saw the images of Mr Dean's mishap.
He said: "I had to wonder how the man was still alive, it looks like he fell right on his head.
"I hope he's getting better, but his predicament does show what can happen with these things.
"People all over the country like to climb these public monuments, and I'm aware that the Dandy Lion statue has previously had a traffic cone placed on its head."
The colourful monument depicts a lion with a fish's tail, with several aspects designed to represent parts of the town's past.
When the sculpture was erected at the start of December it provoked a flurry of comments from residents who felt it looked "garish" and "out of place" in the historic heart of the community.
But Mr Divers said that the ferocity of those complaints had died down in recent weeks, as people become accustomed to the unusual creature's presence in the town.
He said: "I hear more and more people saying they are getting used to it now, and that it doesn't look as large as when it first appeared."