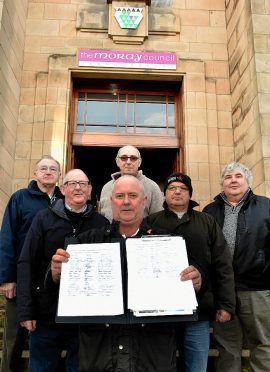 Harbour users campaigning against price increases descended on Moray Council's headquarters yesterday.
Boat owners from Hopeman handed over a petition which has been backed by more than 50% of the port's users to the authority's SNP opposition group.
Late last year, the council narrowly endorsed a slew of measures aimed at making the region's six financially failing ports profitable.
Among the more contentious proposals was the removal of a 25% discount for users older than 60.
Coupled with price increases, that means some will pay double what they do now.
The measures were approved last November, but the council was forced to bring them back to the drawing board last week following a tide of negative reaction.
Officers conceded that "a number of issues had arisen" concerning the report councillors based their decision on.
Buckie councillor, Gordon McDonald, blasted the document as being "so full of holes that it was misleading".
It will be debated again during a meeting of the authority's economic development committee next Tuesday.
Yesterday, Hopeman harbour users surrounded the entrance to the council's Elgin base as they presented their petition.
Boat owner Ian McCulloch explained that it stated their opposition to certain parts of the plans which had been intended as benefits for harbour users.
During last year's meeting, Heldon and Laich member Dennis Slater stipulated that extra income generated by increasing rates be used to add water and power supplies to Hopeman, Findochty, Cullen and Portknockie harbours.
But Mr McCulloch says boat owners were never consulted about that idea, and would not welcome such additions.
He said: "The plans being brought back mean there is a chance we might be heard this time.
"We accept rises are inevitable, but we want our views to be taken into account."
The leader of Moray Council's SNP group, Gary Coull, said that many harbour users had "lost faith" in the authority's administration councillors who voted the plans through.
Mr Coull added: "Hopefully the voices community will be heard at the next meeting."
Mr Slater maintains his priority is ensuring that Moray's harbours – which operate at a collective loss of £135,000 every year – can become self-sustaining.