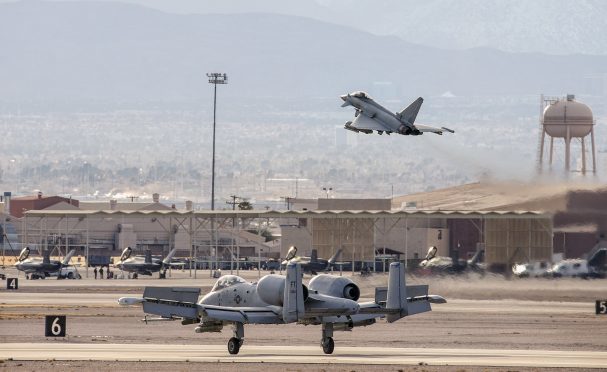 Top gun aces from RAF Lossiemouth have been pitting their wits against enemies in a massive war games operation.
Typhoons from 6 Squadron are in Las Vegas to take part in the Red Flag exercise, which is the largest air combat exercise in the world.
Crews from the Moray base have been taking the role of aggressors with American F-22 Raptors and F-35A Lightnings against aerial and ground targets.
The aces have dropped bombs on ground covering nearly 3 million acres in the Nevada desert – a scale impossible to achieve in Europe.
Wing Commander Billy Cooper, officer commanding 6 Squadron, is proud to represent the UK's defences in the American operation.
He said: "While our day job at Lossiemouth is protecting UK airspace through the Quick Reaction Alert, here in Nevada the majority of what we're doing is air-to-air fighting and some strike missions.
"This means we'll be flying two waves of six aircraft every day.
"One of the benefits of this exercise is the threat replication. We can simulation fighting our way into a target area through a high-threat environment, dropping precision munitions on specific targets and then fighting our way back out again."
Eight Typhoons have made the trip to Las Vegas from the Moray Coast and will be based in America for three weeks. Crews from Australia are also taking part in the exercise.
The aim of the specialist training is to replicate the threats and defences posed by real-life targets while helping nations to understand each other's abilities.
The operation marks the start of three months of training in America for Typhoons from RAF Lossiemouth. 2 Squadron are due to head across the Atlantic Ocean for Green Flag, which replicates support for ground forces, and 1 Squadron will also head to the United States to train with American and French crews.
Red Flag was established in 1975 following the Vietnam War to improve the chance of survival for pilots.