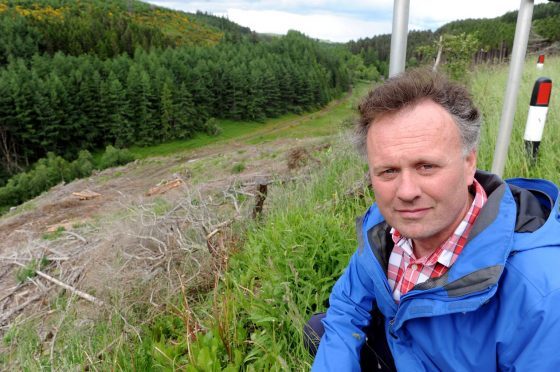 Councillors are being urged to reject plans to install a potentially life saving barrier on a "dangerous" Moray road amid fears it could cost too much.
More than 650 Speyside residents have signed a petition calling on the local authority to place extra safety measures at a bend on the B9014 Keith-Dufftown route to prevent cars plummeting down a 60ft drop.
After trees were recently cut back at Parkmore Brae local residents felt it left the embankment exposed, posing a risk to motorists.
Tomorrow the petition carried out by Dufftown Community Council will be debated at the local authority's economic development at infrastructure committee.
However, officers have recommended it be thrown out on the grounds that installing the £30,000 barrier could set a costly precedent.
Last night George Tulloch, secretary of the community council, accused Moray Council of failing to listen to local concerns and said they were putting a price tag on the value of a life.
He said: "We've been asked on several occasions what our number one priority is and it has always been a crash barrier at Parkmore Brae – but it's always fallen on deaf ears.
"I really don't understand why they pretend to go through that political-correctness exercise if they won't give the community what they want.
"The question I would ask is 'What cost for a life?' I'm pretty sure that now the petition is on the go, if there is a fatality on the bend, there could end up being an inquiry.
"Worst case scenario, if something terrible does happen, then they could look back through history and see these concerns have already been raised.
"It makes it even more ludicrous that the council isn't willing to fork out £30,000 for the barrier. It won't be a lot compared to their entire budget. I mean, what does the council even get for £30,000 these days?"
It is estimated that the cost of the 650ft barrier would be about £30,000 but if land negotiations are required the bill could run into hundreds of thousands of pounds.
Warning signs have already been installed on the road on the approach to the junction and the authority has also carried out risk assessments at the bend.
But officers fear there could be a flurry of requests for barriers elsewhere if one is erected at Parkmore Brae.
Mr Tulloch said he believes the B9014 bend is a special case.
He added: "The Craigellachie to Maggieknockater road has crash barriers all the way along it and the drop is nowhere near as bad as Parkmore Brae.
"If you went off the road there you would still have a chance. It's just outrageous at Parkmore Brae, it's a sheer drop. The bottom line is clearly funding."
Speyside Glenlivet councillor Pearl Paul last night said she intends to persuade her fellow committee members that the pleas from Dufftown residents should be listened to.
She said: "We definitely can't do nothing, or we could end up with egg on our face if something bad does happen. We need to be prepared to listen.
"I really am concerned about it. It's something that a lot of people in Keith feel strongly about too – because they also use the road a lot.
Mrs Paul said she was adamant the new barrier would prove to be worth the authority spending £30,000.
She said: "As with all these things these days you have to weigh up the safety risks with the cost and come to a decision.
"Personally, I think it's worth the money because at the end of the day it's something that could end up saving lives."
Options open to the committee include approving immediate action at the bend, passing the petition to officers to investigate, calling a public hearing or rejecting the calls.
In a report prepared for the committee meeting transport manager Nicola Moss said the professional view is that a barrier is "not appropriate" for the road and necessary precautions are already in place.
She added: "If (the committee agrees that a barrier should be erected on the basis of public perception), a difficult issue of precedent would be created at a time when the council will be unable to finance a range of activities and services which the public may well view as essential.
"As a result, officers would advise strongly against any agreement on this basis.
"Meantime, a detailed assessment of other locations potentially affected has not been carried out as it would be a time consuming process to investigate all existing requests and establish whether they would meet any new criteria."