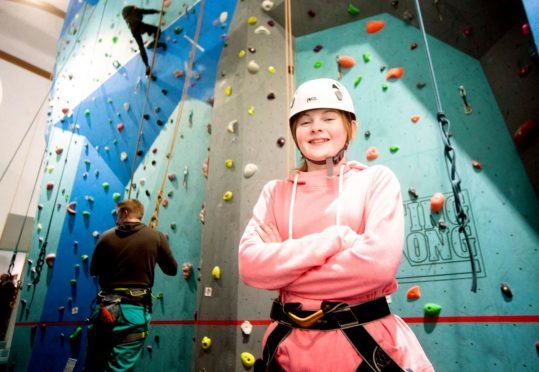 A Moray youngster that pushed herself to the limit to defy myths about a health condition has given dozens of others with the same diagnosis a treat.
Laura Campbell, who has type one diabetes, cycled 13 miles every day for a month to raise money for other affected locals.
Yesterday the £550 raised by the Hopeman 12-year-old paid for dozens of children to scale the heights of rock-climbing walls in Elgin.
The event proved so popular that the youngsters had to be split over two sessions at SpireRoxx due to space.
Energetic children shook off stereotypes about diabetics to don hardhats, run around the former church and haul themselves up the massive climbing wall while parents shared stories.
After touching her feet back on the ground yesterday, climbing enthusiast Laura revealed she already has her sights set on more fundraising challenges.
She said: "Everyone has had a really good time so I would like to do more. It's good to know I'm doing something for others with the same condition as me.
"At the start I just wanted to give something back because the family group has been really supportive for me and I've enjoyed other days that have been organised."
Laura pedalled 380 miles in November after being diagnosed at the end of 2015 – dedicating every 0.1 of a mile to a fellow diabetic in Scotland.
The Lossiemouth High School pupil is aiming to disprove the idea diabetics have an unhealthy lifestyle.
School friends, fellow cubs and family members joined her on the three exercise bikes set up in her conservatory.
Laura's condition means she has to check her blood up to six times a day to see if she needs to inject insulin.
Proud mum Sandie Campbell said: "She didn't want to raise money just randomly. She wanted to do something for other diabetics.
"The family group donates money to research but the fun days are good too – it creates a bond."
Fiona Paton, chairwoman of the Moray Diabetes UK group, which has about 70 youth members, said: "New young members often need the support of other children going through exactly the same thing.
"Activities like this are fantastic at getting them interacting and making their condition seem a bit more every-day. It was an amazing gesture from Laura."