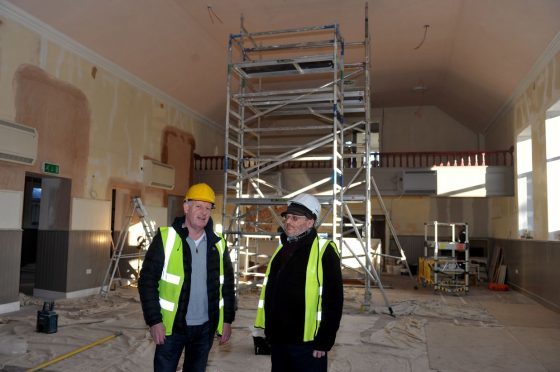 A historic Moray landmark will open its doors again at Easter following a £800,000 facelift.
Fochabers Institute has now emerged from behind scaffolding after extensive work to repair its leaking roof.
The treasured building has been hidden for more than four months as contractors have been busy ensuring it has a future.
Now the focus is turning to transforming the interior of the hall into a theatre and music venue fit to host professional acts.
Yesterday Fochabers Village Association chairman Gordon Christie opened the doors of the Institute to the Press and Journal to show the work that has already been done.
He said: "It was badly in need of refurbishment. There were leaks in the roof, the electrics were way out of date and the windows were badly rotten.
"We've had a good spell of weather over winter and it's really allowed a lot of work to be done and we're well on track to being open.
"We've got the first act booked in now for Easter weekend so there isn't really any option but to be ready."
After completing repairs to the roof, windows and stonework the attention has now moved to the heating, kitchen, electrics and toilets.
Most of the restoration is expected to be completed by the end of the month with only the finishing flourishes to be added after that.
Hardworking volunteers have landed grants from Moray Council, the Robertson Trust and the Gordon and Ena Baxter Foundation to pay for the improvements to save it from closure.
With most of the funds already secured locals are running fundraising events to collect the final pounds to get them to the £796,000 total.
Mr Christie revealed there has already been a lot of interest from performers wanting to be among the first to perform on the refurbished stage.
He said: "We've got about six bookings on the books already for music events through the rest of the year. A lot of people have said we've done a good job with it so it's nice to see a good number of bookings to back that up."