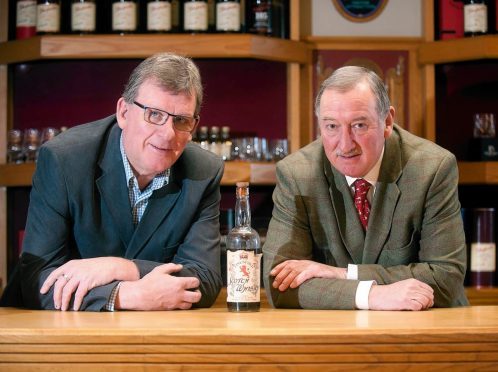 A bottle of Speyside whisky has been taken to its rightful home behind the bar of a village pub – 75 years after it was ordered.
Glenfarclas distillery owner, John Grant, believes the bottle has lain in its sample room since World War II.
Though faded, a handwritten note on the label shows it was intended for the landlord of the Seafield Arms pub in Rothes.
When Mr Grant recently learned that the owners of the bar were looking into its history, he decided to donate the bottle to them.
Licensee Chris Munro visited the malt plant near Ballindalloch yesterday to finally claim the 67% proof whisky, which he will now display in a glass case behind his bar.
As he handed the antique item over, Mr Grant explained that he had been investigating its history.
He said: "I believe the whisky came from a 1927 cask, and was decanted in December 1942.
"Some bottles from that batch went to the Australian Air Force, when they were based in Forres during the war.
"This bottle has been in the sample room for as long as I can remember, it seemed right to give it to the pub when I heard Mr Munro was interested in its past."
Mr Munro and his wife, Barbara, moved from Perth to Rothes nine years ago to take on the 200-year-old Seafield Arms.
He added: "A Charles Kerr ran the pub from 1935-1950, he must have bought the bottle for his customers at the time.
"We are getting a glass case made for it now, we don't want the label to deteriorate any more.
"It will be a good talking point for the bar, we have a lot of tourists in who like to learn about the Speyside whisky industry.
"It's lucky that the bottle was marked as being for the Seafield Arms in Rothes, as there are a few other pubs with that name in the north-east."
The Glenfarclas distillery was established in 1836, and it is now capable of producing 3.5 million litres of spirit every year.
Mr Grant is the fifth generation of his family to run and manage the site.
Mr Grant and Mr Munro would like to hear from any readers who may be able to shed more light on the bottle.