Moray traders have warned the area could become overrun with abandoned pubs and hotels as "crucifying" business rate rises will force firms into closure.
The tax increases, which will come into effect in April, will leave some companies in the area paying more than 200% extra than they do now.
The owner of Lossiemouth's Stotfield Hotel said he may have to close down when his lease expires in three years, while the manager of the town's Beach Bar fears he may be bankrupt "by Christmas".
The independent assessor responsible for working out new rates across the Grampian area admitted that "somebody needs to pick up the ball" to help the worst-hit hotels, pubs, shops and restaurants.
And the chairman of the Moray Economic Partnership group, John Cowe, pleaded for SNP ministers to save firms being pushed to the brink.
Beach Bar owner, Graham Fleming, will go from paying £13,500 to £42,000 each year under the new system.
Mr Fleming put £120,000 into expanding the business by creating a viewing room looking out onto the Moray Firth last year, and says he now feels "punished" for it.
He added: "The way it's going I won't be here in six or nine months, I could be bankrupt by Christmas.
"I feel like I am on a sinking ship, I can't find 200% more money to cover this rise.
"I own a lounge bar, but my rates are going up more than nearby hotels. There doesn't seem to be any fairness to this."
And the man in charge of the town's Stotfield Hotel, Malcolm Edwards, said his bill will soon spiral from £34,000 to £72,000.
He revealed that the grand building – which he has spent thousands sprucing up – may be left to rot if he has to give it up.
Mr Edwards said: "We have the building leased for the next three years, but were hoping to buy it after that.
"Now our future is very uncertain, this has put a spoke in the wheel.
"We don't want to walk away, but might have to.
"If we can't continue it, I imagine the building would be left vacant – which would be a real shame."
Chairman of the Moray Economic Partnership group, John Cowe, added: "In Moray, there is a factor of 10 businesses whose rates are going up, compared to those having them decreased.
"These firms are being crucified by a Scottish Government situation, which the ministers responsible must act to resolve."
Scores of concerned traders packed into Elgin's Sunninghill Hotel for a emergency summit arranged by the Moray Chamber of Commerce last week.
Its chief executive, Sarah Medcraf, said the issue had caused "a lot of anger and upset" among traders.
And dozens of angry business owners tackled the surveyor responsible for deciding the value of their premises.
Rates assessor for the Grampian area, Ian Milton, explained to them that the increases are based on venues' "hypothetical achievable turnover".
Mr Milton said: "The new rates aren't based on what they were before, this is pressing the reset button for a completely fresh start.
"Values have been pegged at 2010 levels, and there is a greater potential for turbulence the longer the gap between valuations is.
"I could see very early on in this exercise that values are rising considerably in the north-east.
"I can definitely see there is an issue here, and have to ask who is going to pick up that ball and take it on."
The Scottish Government has stressed that its new system will mean that more than half of Scotland's businesses will pay no rates at all as of April.
And a spokeswoman maintained that significant sums would be available to help those businesses worst affected.
She added: "The total package of reliefs we are offering will increase to more than £600million."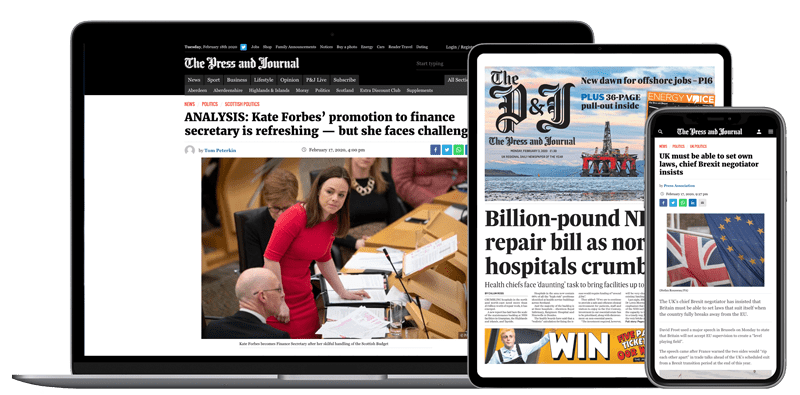 Help support quality local journalism … become a digital subscriber to The Press and Journal
For as little as £5.99 a month you can access all of our content, including Premium articles.
Subscribe