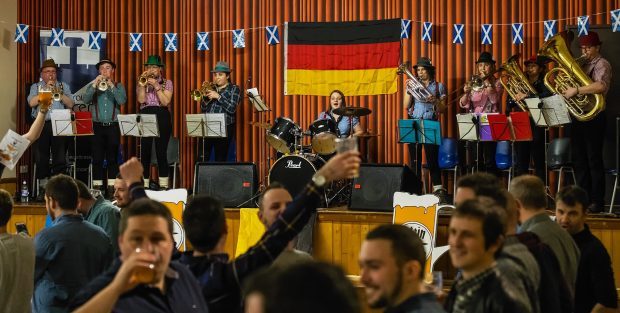 Beer enthusiasts danced to brass band covers of some classic pop songs during an Oktoberfest-inspired celebration at the weekend.
The Friends of Moray Concert Brass group staged the third annual Beerfest event in Bishopmill Hall, Elgin on Saturday.
Members of the band's German-themed Stein Brass group entertained, and had revellers jigging to reworked versions of classic anthems by Queen and Madness.
The musicians looked down on the packed tables from a stage which had been bedecked with German and Scottish flags for the occasion.
The previous two instalments of the event, which features dozens of varieties of beer, have raised a combined £3,000 to help pay for tours abroad.
Yesterday, organisers said they hoped the event would repeat the success of previous years.
Musical director for the brass band, Glenn Munro, said it represented the beginning of a landmark year for the music group.
Mr Munro added: "We have every reason to expect that this year's Beerfest raised about as much as it has previously.
"The Stein Brass group doesn't just play German music, Bohemian Rhapsody and Baggy Trousers are good songs to get people up and enjoying themselves.
"We have had lots of positive feedback, and it seems everyone had a good time.
"The event was important for us as we will be celebrating our 25th anniversary this summer, and it helped get things off on the right foot."
Mr Munro said the band may look into staging next year's event at a larger venue.
The money raised on Saturday will help pay for 60 members of the band to visit Holland on a tour.