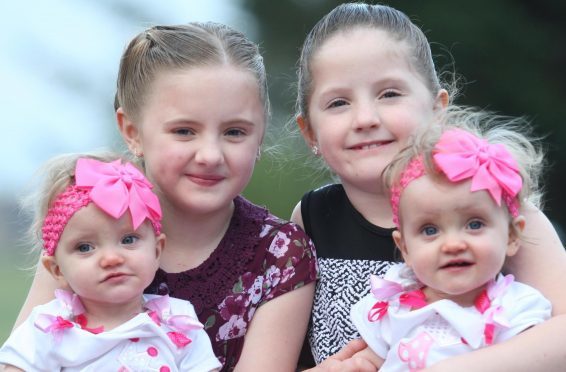 Parents believe they have beaten odds of 30 million to one after their newborn twins were born on the exact same day as their nine year old twins.
Zoe, 38, and Ben Sullivan, 42, has been left astounded at the coincidence which has higher odds than winning the lottery.
Full-time mum of nine Zoe from Lossiemouth, gave birth to identical twins Leah and Erin, now one, ten weeks early – meaning they were born on non identical twins Charlotte and Isabelle's eighth birthday.
Zoe said one of the twins had stopped growing in the womb, so she went in to be induced ten weeks early.
It meant the four girls celebrated their birthdays on January 25, and the day was 'manic'.
She said: "Our family isn't one in a million, it's one in thirty million.
"We had a big day for them all and did more on the weekend. Now all our kids want babies on their birthdays."
Zoe said that Leah and Erin were meant to be due in April 2016, but would have been delivered in March as they were twins and could not reach a full term.
She added: "I ended up going in on the 23rd of January 2016 because I was experiencing complications – Erin wasn't growing in the womb and doctors were concerned so decided I should be induced early.
"By sheer coincidence, they were then born two days later on Charlotte and Isabelle's birthday."
Leah was born weighing 3lbs4 while Erin was born weighing 2lbs6 at Raigmore Hospital in Inverness.
Erin suffered complications after her birth and was rushed to Aberdeen Royal Infirmary after developing sepsis.
Zoe said: "It was pretty stressful, we had Leah in Inverness and Erin in Aberdeen – 87 miles away from each other as well as seven children at home we were trying to juggle."
Leah was allowed out of hospital at six weeks and Erin got the all clear at ten weeks.
Zoe and dad Ben, an RAF engineer, are parents to Elizabeth, 11, Olivia, 10, Charlotte and Isabelle, both nine, Noah, seven, Evangeline, five, Tobias, four, Lean and Erin, one, with one on the way.
Speaking of the special day on the 25th, Ben said: "It was lovely to celebrate the day after the stress of Erin and Leah's birth.
"We've realised that we're going to have to budget for the 25th as it's an expensive day now with four birthdays! We have to budget and put money away every month."