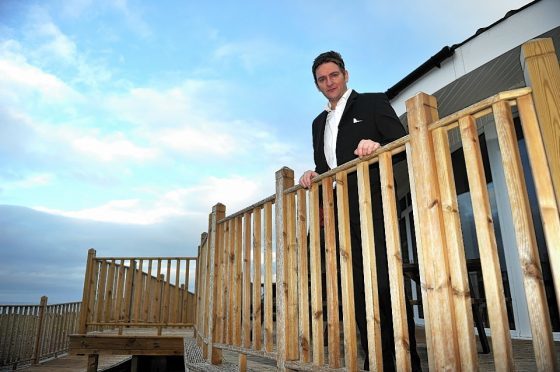 Hotel and pub owners across Moray breathed a sigh of relief last night after SNP ministers' "monumental U-turn" on business rate rises.
Traders who feared their firms may not last until the end of the year are now making plans for the future.
But the area's economic leaders have lamented the Scottish Government's decision to limit a 12.5% cap on office rates only to Aberdeen and Aberdeenshire – insisting Moray too has been hit by the oil and gas downturn.
The chairman of the Moray Economic Partnership group, John Cowe, described the decision as "a sting in the tail", while council bosses vowed to challenge it.
The owner of Lossiemouth's Beach Bar, Graham Fleming, said he had faced being "bankrupt by Christmas" under a staggering business rates increase in excess of 200%.
Mr Fleming's bills were poised to soar from £13,500 to £42,000 every year.
But, following Mr Mackay's announcement yesterday, he will face a maximum increase of roughly £1,700 as of April.
Last night the relieved trader said he was now looking forward to making the most of his recent £120,000 investment in the coastal bar and restaurant.
He will meet his financial backers today to discuss ways of promoting the new Firth Room dining area.
Mr Fleming said: "It's a very good result, a 12.5% increase would be manageable."
The owner of Lossiemouth's Stotfield Hotel, Malcolm Edwards, feared he would have to abandon the venue when his lease expires in three years as its rates were to surge from £34,000 to £72,000.
Mr Edwards said he was "shocked, but delighted" by the government's change of heart.
He added: "Now we can go back to doing up the hotel, which we had put a halt on."
But Mr Cowe, said his joy at the tax turnaround was short-lived when he learned the cap on office rates would not extend to Moray.
Mr Mackay explained that the measure was granted in Aberdeen and Aberdeenshire because the area has suffered most from the downturn in oil prices.
But Mr Cowe argued that Moray's economy has been hammered by the North Sea crisis as well – with the loss of 500 jobs in Buckie alone.
He added: "I was pleased by the government's monumental U-turn but this is a real sting in the tail, it feels like we are being discriminated against here.
"The whole north-east has been hit by the downturn in oil, and there are several offices in Moray that will be affected by this."
Moray Council leader, Stewart Cree, said Mr Mackay "should have thought a bit more cleverly" about the wider effect of the oil slump.
Mr Cree said: "I have always considered Moray part of the north-east, it seems strange we have been insulated in this regard."
A government spokesman said Holyrood would support councils in forming assistance schemes for businesses unaffected by yesterday's relief package.
Meanwhile, the Scotch Whisky Association pledged to investigate the harm which could befall the region's drinks industry in the wake of the imminent increases.
A spokeswoman said: "We are assessing with members the potential impact of the rates revaluation on industry sites.
"It is important that the Scottish Government works to ensure the business environment in Scotland is as competitive as anywhere else in the UK, and ideally more so."