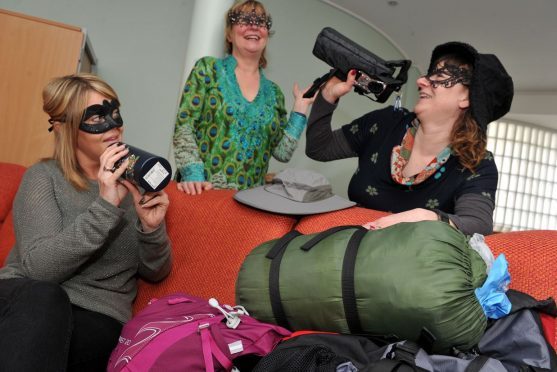 Campaigners are preparing to endure the searing heat of the Sahara Desert to help guarantee the future of a charity.
Moray Women's Aid faces a £20,000 funding shortfall after having its funding slashed in recent years.
The group has now thrown its efforts into fundraising to make up the difference to avoid the prospect of turning away vulnerable women and children.
On Saturday, the group will host a masquerade ball at the Eight Acres Hotel in Elgin to boost the fundraising total of the 62-mile African expedition.
Concert tickets for the likes of Kiss and Robbie Williams are among a star-studded list of auction and raffle prizes expected to boost the charity's balance by thousands at the gala event.
For nearly a year the 10 hikers, known as the Tartan Trekkers, have been clambering up the dunes at Lossiemouth to simulate the under-foot conditions of the Sahara sand.
Three members of staff from the charity will be supported by groups including Moray Businesswomen, the child protection unit and Hanover Housing on the Moroccan adventure next month.
The trekkers will rough it by camping under the stars among the sand dunes as they trudge from Ouarzazate through the stunning Draa Valley in the east of the country for five days.
The charity's service manager, Elle Johnston said: "It's going to be a real challenge, I've lost 30lbs in the training, but it's a selection of women that are passionate about the cause.
"We've already received a lot of support from the community so we're very hopeful of raising the money that we need to."
The funding situation at the charity has become so grim that donations are being used to cover petrol costs for volunteers to visit women across Moray living in fear of domestic violence.
Ms Johnston added: "We have four volunteer councillors – people who have given up their time to speak to the women we support.
"Our position is that we need to support them with petrol money and other expenses because they are the ones who are going out there to get professional help for the women and children.
"This year we have to raise £20,000 but that just isn't sustainable so we're looking at ways of funding – including social enterprises."
Every year the charity receives about 700 calls from affecting about 300 women and 150 children that are living in fear. The group offers help to find accommodation as well as emotional support.