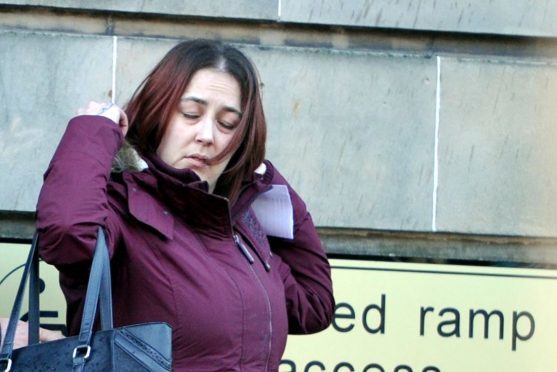 A Moray woman banged her head on the side of a police van before spitting blood at two officers, a court has heard.
Lindsey Court, of Califer Road in Forres, also kicked another officer on the head during the incident.
Police were initially called to the scene after being alerted to a "disagreement" in a takeaway, Elgin Sheriff Court heard yesterday.
Witnesses saw the 31-year-old arguing with another person in the Speedy Pepper premises on the High Street in Forres on June 26 last year.
Police initially asked the two parties to leave. However, while the other person left, Court did not.
Fiscal David Morton said officers then felt they had "no alternative" but to arrest Court.
He said: "While she was being taken to the rear of the police van she delivered a single kick, which struck the officer directly on the face.
"Sergeant Brian Ferry deployed his spray and requested further assistance. As a result of that constables Kathryn Morrison and Luke Cochrane attended.
"Miss Court had been banging her head on the side of the police van, which caused an injury. From that injury she began spitting blood and mucus at the officers."
Mr Morton added that blood landed on the arms of the officers, who initially took her to Dr Gray's Hospital.
Defence solicitor Stephen Carty said: "She apologises unreservedly for the way she acted that evening."
Court was placed under supervision for 12 months and ordered to do 200 hours of unpaid work after admitting the two assault charges.