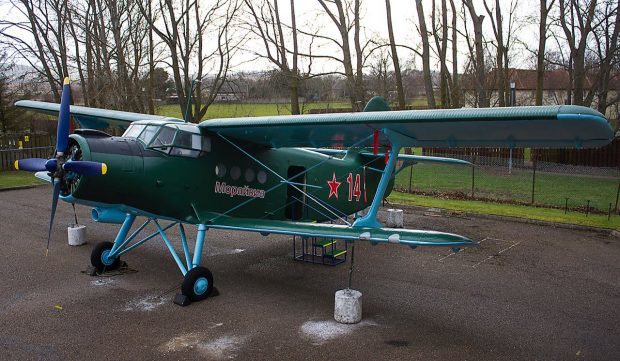 A squadron of volunteers has reassembled a relic from the Cold War in just 10 days at a Moray aviation centre.
Less than two weeks ago, parts of the Antonov 2 biplane were scattered about Morayvia's premises at Kinloss.
However, now the vintage aircraft is ready to welcome its first visitors next month after being decked out in a Russian Air Force livery.
Volunteers used their muscle to carry the wings and tail out of the workshops to be reattached with the fuselage, with a forklift delicately lifting them into position. Crates were used to keep the aircraft steady while the parts were securely attached again.
More than 30 enthusiasts have been scraping away decades of grime since the plane was delivered to Moray last summer.
Experts have been hard at work repairing, reassembling and painting parts to get them looking as close to their best as possible ever since.
Morayvia chairman Mark Mair praised the efforts of volunteers to complete the assembly of the Antonov while working on other repairs.
He said: "We have also been repairing, rebuilding and respraying the Hunter F5 cockpit, the Jet Provost T4 and similar upgrades to the Canberra.
"The Nimrod section has also undergone refurbishment with the cracked cockpit window now replaced.
"These efforts are adding significant value to Morayvia's assets and providing quality heritage items to make them an asset to Moray and Scotland."
The striking Russian Air Force livery was chosen to make the plane stand out from the rest of the centre's collection with the number 14 emblazoned on the side to reflect its designation when it was delivered to Aeroflot.
The Antonov has links to Scottish aviation history through heroic wartime Arctic convoys and pilots being trained at Montrose.
Chief executive Stan Barber added: "The decision to invest our limited funds on this project was a bit of a no-brainer.
"The Antonov is the largest single-engine biplane in the world today. Though it looks ancient, the design is post-World War
II and represents Russia's usual no-nonsense, no-frills philosophy."
Morayvia will reopen its doors to the public for the summer on Saturday, April 1.