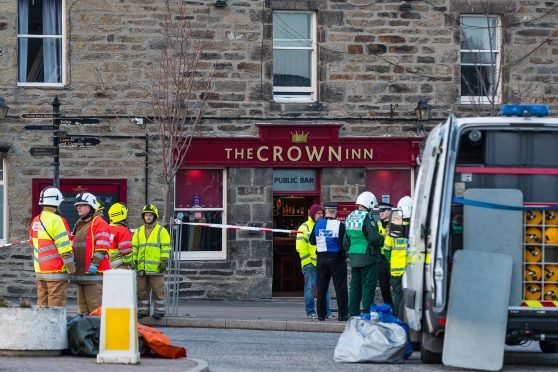 A north-east pub was sealed off for six hours yesterday after a mystery package was sent there containing a bizarre note referencing ISIS.
The letter, which claimed to be from "the UK IS support group", arrived in Keith exactly 24 hours after carnage unfolded in the heart of London.
The envelope, which was postmarked from Lancashire, also contained an unknown powder held within a tinfoil wrap.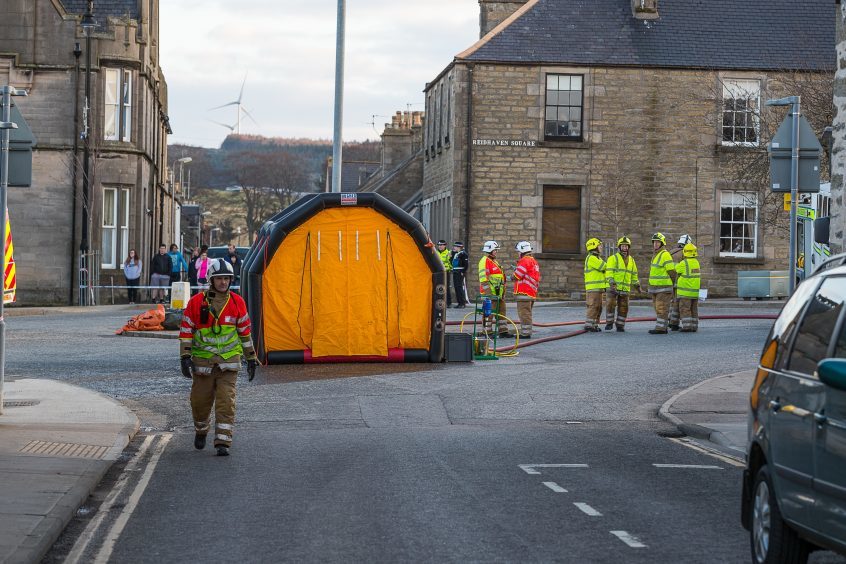 Dozens of police officers and nine fire engines immediately swarmed on the Moray town, cordoning off Reidhaven Square and some surrounding streets in case the substance posed a threat.
Residents were also forced out of their homes during that time.
Owner of the Crown Inn, Jock McKay, discovered the item among his usual post at around 2.30pm and quickly called the police after reading the troubling note.
The letter – which was written in garbled English – makes reference to Moray MP Angus Robertson, who was also caught up in the terror attack at Westminster on Wednesday.
Within the typed message it states people should vote for Mr Robertson in order to ensure Scotland remains within the European Union so that it would "keep the door open" to the country becoming "a Muslim state".
And a handwritten note underneath says the mystery powder within the tinfoil package contained "a treat".
After the alarm was sounded, Reidhaven Square was rapidly evacuated and the substance was taken into a decontamination tent to be tested.
Last night, Mr McKay said he was shocked when he opened the envelope and noticed the ISIS symbol at the top of the paper.
He said: "It was just in the normal mail through the door, I phoned the police right away when I opened it as I was very concerned.
"The letter was only addressed to the pub, rather than to me, but I just can't imagine why it has been sent here of all places.
"It's very strange that it seems to have come from Lancashire, and was addressed to the Crown Inn in Keith.
"The message was confusing, but it seemed to be about trying to get people together to help ISIS."
Inspector David Hoyle later confirmed that the substance was "not harmful" but said it was yet to be identified.
He added: "Following a multi-agency response, a substance was recovered and the fire service completed tests on it to confirm it was not harmful to the public.
"There will be an ongoing investigation into who sent the package.
"The most important thing is that everyone was safe, and I thank residents for their patience."
Residents huddled around the makeshift police perimeter yesterday as they anxiously awaited updates on what was going on.
One youngster was returning home from school when she noticed the drama unfolding.
She said: "There was just one policeman at the pub at first, but then all of a sudden these cordons started going up and all these police cars and fire engines appeared.
"You'd never imagine something like this happening here, it's like something from the TV."
Her mum added: "If this is a joke, then it isn't a very funny one.
"I hope the police catch whoever sent that package, and make them pay for wasting so much of the emergency services' time."
One local said he had contacted his sister in Elgin about staying there overnight should the area have remained on lockdown.
Kevin Chaudhary said: "It was really worrying seeing all the police, and only being able to wonder what had happened."
Reidhaven Square was reopened at about 8pm and residents were able to return to their homes, though police remained on guard at the pub.
UPDATED: Police say the substance sent in the letter has been tested and found to be "not harmful".