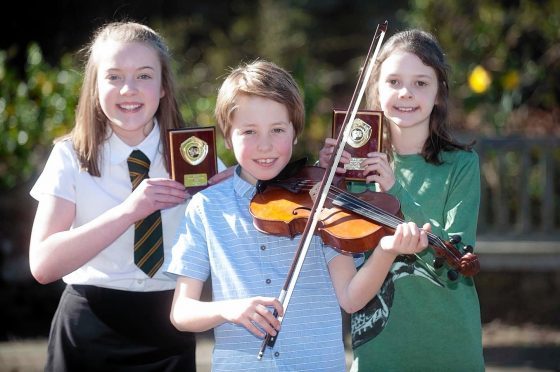 Youngsters from across the country proved that traditional Scottish music is "alive and well" during a Moray competition at the weekend.
The Elgin Strathspey and Reel Society's 46th annual fiddle festival drew capacity crowds to the town's Williamson Hall on Saturday.
Organisers were especially pleased that the busiest class of the day was the 10-12 age category, which attracted 23 entries.
Competitors descended on the town from Dunbeath to the north and Edinburgh to the south to showcase their talents.
Joint festival secretary, Louise McLean, yesterday spoke of her delight at how the children had embraced and perfected some beloved traditional tunes.
She said: "We have a wealth of talent in this area, and we are extremely grateful for the support we receive from our instrumental instructors in training these youngsters.
"It was very apparent that traditional Scottish music is very much alive in this area, and is obviously enjoyed by all."
The day's youngest winner was Robert Ferguson, from Drummuir, who won the Kim Murray trophy for players aged nine and under.
Kirsty Grant, from Dunbeath, won the McKerron Cup for the 10-12 age group.
Fiddlers from Milne's High School in Fochabers took the Frank Collins prize for secondary schools ensemble – beating last year's winners, Buckie High School, into second place.
The top award in the championship class, the William MacPherson trophy, went to George Davidson from Tarves.
Elgin Rotary Club donates a trophy and a bow every year for the best individual performance in the 13-16 age category.
This year, for the second event in a row, it was won by Rosie Winchester from Keith.
Douglas Lawrence, an acclaimed fiddler from Buckie, acted as adjudicator and praised the quality of the entries.
As the gathering drew to a close, Mr Lawrence played a composition created by Forres's Ena Brian especially for the festival.
The piece, entitled Jenny, was written about her grandmother and won the "own composition – slow air" category.
Mrs McLean added: "You could have heard a pin drop in the hall during that, and of course it received tremendous applause."