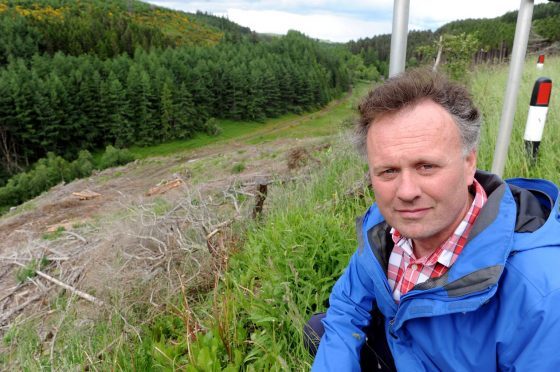 A Moray community's unsuccessful 10-year campaign for a crash barrier to be created at a notorious road bend has been described as a failure of democracy.
Members of Dufftown Community Council argued with councillors yesterday that one life saved would be worth the £30,000 cost of the safety measure at the summit of a 200ft drop.
But the petition to install a barrier on the B9014 Keith to Dufftown route at Parkmore Brae, which attracted 657 signatures, failed by a single vote to be passed at the full council meeting.
Following the news, George Tulloch, secretary of the community council, said he feared the group's fight had come to the end of the road.
He claimed: "Moray Council have valued the cost of a life at less than £30,000. That's how much it would have cost.
"Councillors from outside the area have decided this. There was overwhelming support in Dufftown. We've gone through all the procedures, so where's the local democracy?
"It's on record now that Moray Council have rejected this. If there's ever a fatal accident inquiry after an accident there, it will cause far more reputational damage than £30,000."
Council officer Nicola Moss told the meeting there had been no report of accidents at the sharp bends in the last three years and safety measures had already been implemented to minimise the "medium risk"
Warnings were made to councillors that approving the barrier outwith the authority's safety policy could open the doors to further across the region – which could total more than £300,000.
Council leader Stewart Cree said: "We need to have a policy officers have faith in so they can implement it."
Councillors rejected the petition by 13 votes to 12.