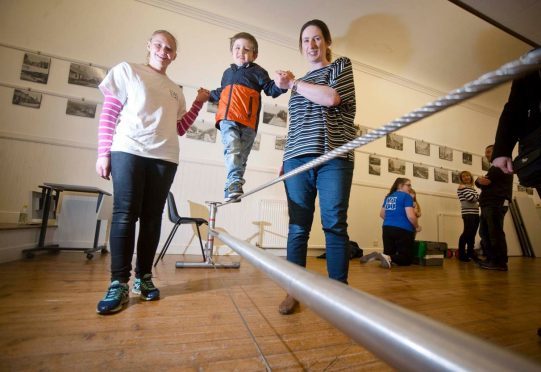 All the fun of the circus came to a Moray attraction at the weekend to shine a light on the history of medieval entertainment.
Court jesters hosted workshops throughout the day at Elgin Museum as more than 150 youngsters learned skills to impress their friends during the Easter holidays.
Children took it in turns to dare each other to walk along a perilous tightrope, erected to test balance to the limit.
Some would-be circus acts were brave enough to let go of their parents' hands to see if they could stay on the high-wire unaided.
The sound of juggling balls hitting the ground was a constant feature throughout the day as visitors were tasked with keeping them in the air for as long as possible by Theatre Modo
Garmouth youngster Fergus Smith, 8, said: "It's been really fun. I tried the tightrope twice. The first time I did it with mum and dad.
"I tried it just myself the second time, but I was afraid I was going to fall over."
Workshop assistant Joanne Findlay added: "It's a good way to improve hand-eye coordination and getting the children interacting with others, it's just good fun."
The event was organised to mark Elgin Museum's opening for the summer season.
Museum volunteer Claire Herbert spent much of Saturday with a paper fish on her back to replicate French traditions of April Fools Day.
She added: "We've got new exhibitions about World War I and natural history. This was a fun way to get people in to show them off."