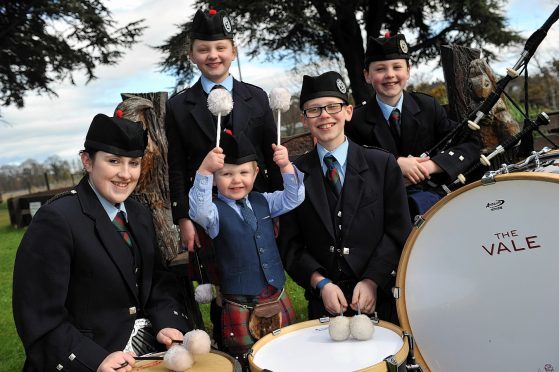 A little drummer boy snared the spotlight as Moray's annual bagpiping extravaganza was launched yesterday.
Two-year-old Ruaridh Stewart took centre stage during a celebration to mark the start of ticket sales for this summer's Piping at Forres.
Ruaridh was invited along with 10 other members of his family after they were deemed the "most steeped in piping" in Scotland.
His granny, Gillie McNab, entered herself and her loved ones in the global competition put together by organisers.
The Perthshire clan are all members of the Vale of Atholl Pipe Band.
And yesterday, they dressed up in their tartans as guests of honour for the ceremony at the Benromach whisky distillery.
Mrs McNab said: "When the competition was announced I had a lot of people telling me I should enter it, saying it sounded just like my family.
"I was still surprised when we won, and we are delighted to be part of this event.
"Ruaridh is an aspiring drummer.
"Being in this family he really has no choice – but he enjoys it."
Ruaridh later cuddled into mum and dad, Ian and Irralee Stewart, as a series of speeches and presentations detailed the upcoming European Pipe Band Championships event.
It was revealed that about 120 bands are expected to compete at Grant Park on June 24, bringing roughly 4,000 pipers and drummers to the region.
Laurie Piper, operations manager of Moray Speyside Tourism, was among 60 guests who attended the event.
Mr Piper said: "Piping At Forres has established itself as one of Moray's key annual events, offering the opportunity for visitors to enjoy a truly authentic taste of this most special part of Scotland."
The contest is organised by Forres Events Ltd, and its chairman paid tribute to everyone who had helped bring the first instalment in 2013 to fruition.
This year's chieftain, Major General Seymour Monro, said the party had "kicked things off nicely".
He said: "This is a spectacular event which has put not only Forres but Moray on the map."
Elgin's Oakwood Cookery School oversees the festival's yearly World Tattie Scone Championships.
And staff were on hand at yesterday's reception to serve up canapes created using the delicacy, with toppings like chicken korma and smoked salmon.