Efforts to lure movie stars to Moray by creating a film studio at the Kinloss Army Barracks have been stepped up.
MSP Richard Lochhead believes the recent creation of a £200million studio complex near Edinburgh means Scotland is about to become a Hollywood hotbed.
And he says the development greatly strengthens the argument for transforming disused hangars at the former RAF base near Forres for film industry use.
Scottish arts chiefs last night said they would welcome any bid to create such a facility in Moray.
The barracks was spared the axe as part of a spending review which sounded the death knell for Fort George and seven other Scottish bases last year.
There are now fears that Kinloss could be threatened with closure again however – while it uses only a fraction of its 178 acres, increasing the urgency of the campaign.
The SNP's Mr Lochhead said: "We need to keep this dream alive, as the new studio at Edinburgh means more film companies will be attracted to Scotland.
"Moray should have a role to play in that, and Kinloss is the perfect place for more studio space.
"There are enormous hangars there lying empty, which would be ideal for film sets.
"And the location is great for companies looking to film in the Highlands.
"The last time I proposed this I got the impression that the Ministry of Defence was lukewarm to the idea, but circumstances have changed since then."
The MOD did not respond to a request for comment.
Mr Lochhead recently raised the issue at Holyrood and intends to discuss it with the Highlands and Islands Enterprise development group.
Local filmmaker Tim Flood has thrown his support behind Mr Lochhead's crusade.
He said: "This is a great opportunity, and the barracks offers production companies the ability to fly whole crews in."
Mr Flood highlighted a new filmmaking course at Moray College as a means of creating a generation of budding movie-makers who could staff the proposed studio.
He added: "We would need to have labour in this area for such a venture.
"There would be a lot of work required, but there's a growing interest in film production in Moray."
National arts agency Creative Scotland was a driving force behind the new studio near Edinburgh.
A spokeswoman for its film studio delivery group said any development at the barracks would be supported.
She said: "We continue to welcome private sector-led developments for film and TV studio facilities in Scotland."
The Kinloss Army Barracks was an RAF station until 2011, and the Army's 39 Engineer Regiment has been based there since 2012.
Last year, it emerged that the MOD was considering scrapping the base to cut costs.
Following a campaign to secure its future, the UK Government announced it would be retained in November.
However, the outgoing leader of Moray Council has voiced concerns that it could come under threat again unless the land there is utilised.
Speaking after the base was removed from the line of fire, Stewart Cree spoke of the need to transform it into a "multi-use site".
The local authority boss revealed that he had discussed methods of ensuring the Army remains in Moray for the long haul with the UK Government's Scottish Secretary, David Mundell.
Mr Cree said: "We can't leave it with so much spare capacity, that will leave the barracks open to threats of closure again in the future.
"We don't want to be in a position where we have to worry about the base facing closure whenever such a review is announced."
The Pentland Film Studio on the outskirts of Edinburgh was given the go-ahead by the Scottish Government earlier this week, and is expected to open next year.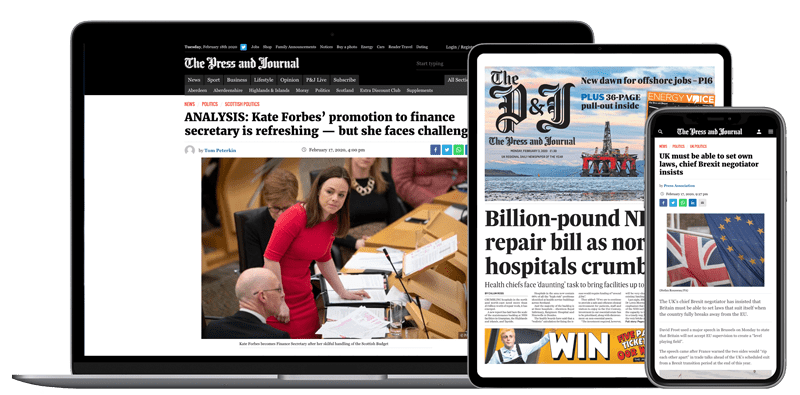 Help support quality local journalism … become a digital subscriber to The Press and Journal
For as little as £5.99 a month you can access all of our content, including Premium articles.
Subscribe