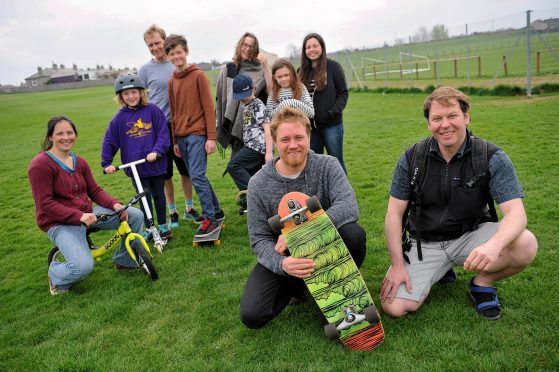 Skateboarders are determined to turn their pipe dream of a new park in Lossiemouth into a reality.
Enthusiasts want to secure control over a patch of the town's Coulardbank playing fields to build a range of ramps costing at least £150,000.
Eight-year-old aficionado, Oliver Peace, has been taking part in the action-packed pursuit since he was four.
But he has to visit parks in Elgin and Inverness to practice his hobby, and looks forward to the day when there will be a suitable facility on his doorstep.
Oliver said: "It's really fun, and if there was a skate park in Lossiemouth I would use it every day."
His 14-year-old brother, Hayden, added: "This idea came about three years ago, and ever since then I have really wanted it to happen."
Their mum, Kerry Peace, said: "The Elgin park is catered more towards older people, so it can be difficult for littler ones to go on.
"We are hoping to have a park in Lossiemouth that would suit skateboarders of all ages, with different types of ramps."
Oliver's dad, Donald Peace, is chairman of the Lossiemouth Skate Park Initiative.
He is hoping to win public support for the group's plans with a "pop up mini ramp day" later this month.
The structure will be set up next to the Coulardbank playground, where the group envisions the permanent skate park will one day be built.
Mr Peace said: "We want local kids to have a go on the ramps and find out what they are all about.
"Everyone can get on a board and we can let them know what it is we are aiming for here."
The 32-year-old added: "The idea behind this is really just to get people behind our plans to have a full-time skate park in Lossiemouth.
"We would like to assume ownership of the land from the council, and if all goes well we could have it open in 2019.
"I've been skateboarding for 20 years, and there is already a thriving community around it in the town.
"But we want to create more opportunities for children to get involved."
The mini ramp day will take place from 11am to 4pm on Saturday, April 22.