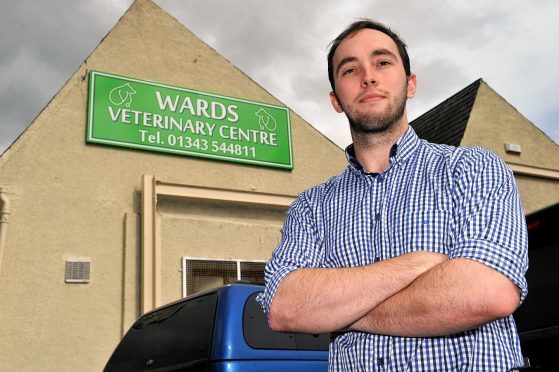 Pet owners have been warned that a "highly contagious" disease which proves especially fatal to puppies has broken out.
Cases of parvovirus have been confirmed in Elgin and Banff, and vets yesterday issued an urgent call for people to make sure their dogs are vaccinated.
Dogs who contract the condition only have a 50% chance of survival, even if it is detected and treated early.
One of the sickly pups was taken to the Wards Veterinary Centre in Elgin during the week, and is now battling to overcome the illness.
Jack Newton-Jackson, a vet at the facility, said the animal was so sick it was on the brink of dying through dehydration.
"The animal was very lethargic and had stopped wanting to eat, it just wasn't being its usual self," he said.
"We didn't realise it was parvovirus straight away, as it isn't as common now as it once was.
"We have since been providing therapy for it, and making sure the dog is getting plenty of fluids and antibiotics.
"This can be fatal, but we think we caught it in time on this occasion.
"If detected quickly, then dogs have about a 50% chance of survival and if the animals live through their first five days of treatment then that increases to 90%."
The vet added that, although the disease is most deadly to puppies, it can prove harmful to canines of all ages.
He said: "Parvovirus causes such severe dehydration, through sickness and diarrhoea that it eventually interferes with the heart.
"There was another case in Banff recently so there are definitely dogs out there who have it.
"There are probably whole litters of puppies with it, so I want to make as many people aware of this as possible.
"It can be spread through droppings, so it's important to keep an eye on where dogs are sniffing about when they are out on walks."
Mr Newton-Jackson said that all puppies should be vaccinated against the disease at 10 weeks old.
He advised that anyone buying a young dog should check that both it and its parents have been made immune to parvovirus.
"My advice is for people to only get puppies from a reputable breeder or from people they know very well", the vet added.
Parvovirus symptoms include lethargy, severe vomiting, loss of appetite and diarrhoea.
The virus can live in the environment for months, and can survive on inanimate objects like food bowls, shoes, clothes and floors.
Breeds at highest risk of becoming infected are Rottweilers, Doberman pinschers, Labrador retrievers and German shepherds.