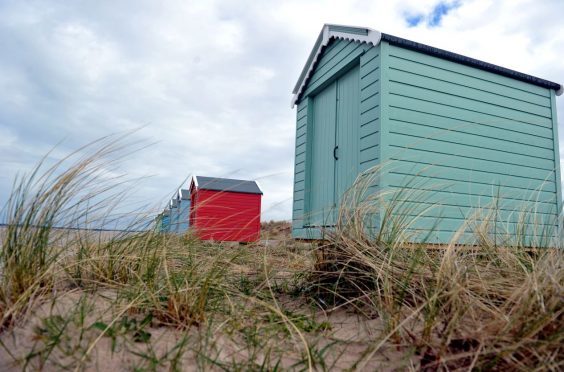 The next wave of multi-coloured huts on a Moray beach will be built within the next month.
Seven of the 10 £25,000 shelters at Findhorn have already been sold to locals looking to find an escape from the sea breeze.
And interest in the huts has been so strong that work to build another 10 of the colourful huts will begin in the coming weeks.
Last night developer Ian Sutherland McCook from 1 Architects revealed he was regularly fielding inquiries from would-be purchasers.
He said: "I've just had two phone calls today from people who had seen them down at the beach and wanted to know how to get one.
"Activity on the site will only increase that. There's always more interest in projects when there is work underway."
The furthest away a beach hut owner lives from their coastal retreat is Glenlivet – the rest live within a 20-mile drive of Findhorn.
Retired teacher Jane Miller, from Forres, regularly heads to her beach hut to spend time on her artwork.
And the 60-year-old explained the shelter allowed her to enjoy the stunning Moray coastline for longer during the year.
She said: "I'd never seen one for less than £40,000 before. The effect it has on your lifestyle is brilliant.
"You're able to be outside at the seaside when you otherwise wouldn't be able to because, let's face it, we're in the north of Scotland."
Paula Harte, who owns the neighbouring hut, said: "I take a pair of binoculars down and watch seals. In the south of England you're looking at £80,000 to £90,000 for something similar – astronomical prices."
Mr McCook added that work would begin on the next 10 beach huts "imminently". There is planning permission in place for a total of 30.
An eighth had been sold but the buyer pulled out due to a family illness.
Mr McCook added: "They're much better value than static caravans. Over 10 years a caravan will have lost half of its value.
"The beach huts will probably increase in value during that same time by about 30 or 40%, just like any other property.
"They're built to such a high specification that they will withstand the weather quite well. All they need is regular maintenance every few years."