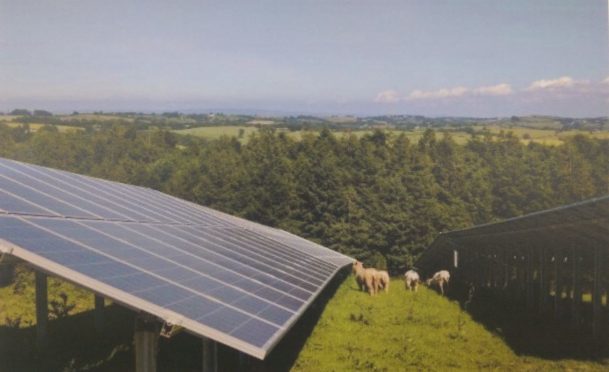 An abandoned airfield in Moray could soon be generating enough electricity to power the region's biggest town.
Developer Elgin Energy wants to cover Milltown Airfield with about 200,000 solar panels to take advantage of the area's long summer days.
The firm intends to submit plans in the coming months and could begin construction on the 280-acre former RAF base as soon as 2020.
The project team was in Lhanbryde last night to showcase their proposals for Milltown and nearby Speyslaw, which are both on Innes Estate about three miles north-east of Elgin.
Fields on the sites are currently used for grazing sheep and the animals will still be able to skip between the panels once they are in place.
Project manager Ronan Clarke explained the two combined developments would generate enough power for 21,000 homes.
He said: "With solar energy you don't necessarily need sunny weather, you need strong light.
"The south of England is the best part of the UK for it but Moray, and the whole east coast between Inverness and Aberdeen, has long days in the summer to compensate for that.
"The first thing we always get asked is where we're going to put the turbines, but these will be no more than 2.8m (9ft) tall."
Drawings show the panels will line the old runways at the airfield. The 125-acre Speyslaw development will be about half the size of Milltown with about 80,000 solar panels.
One Lhanbryde resident leaving last night's exhibition believed the proposals could only benefit the region.
He said: "I can't see how anyone can be offended by it. The land isn't being used for anything at the moment – only sheep – and they'll still be able to be there.
"If it's not doing anything then it may as well be put to some good."
RAF Milltown was initially established to help efforts during World War II but was closed for flying in 1977.
Despite the name, Elgin Energy does not have any links to Moray. The firm, which has bases in London and Dublin, was named after the street in the Irish capital where it was first established.