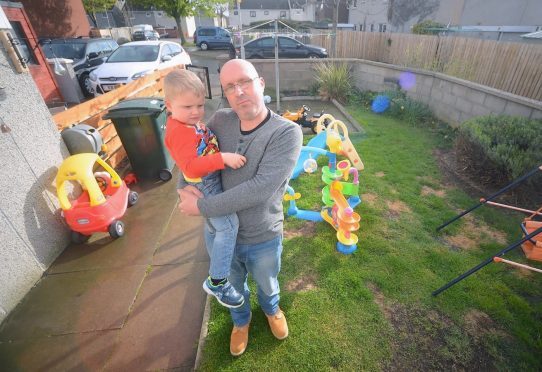 A Moray toddler has been left devastated after heartless thieves stole his favourite toy.
Two-year-old Jonathan McIntosh was thrilled when he was given a trampoline for his birthday. And the energetic Forres youngster has spent countless afternoons jumping up and down on the apparatus.
However, it has now been stolen from the back garden at the family's Glenmore Place home, leaving Jonathan heartbroken.
His dad, Brian, who works at a recycling centre in Elgin, has now launched an appeal for the thieves to return his son's beloved present.
He said: "It's just a kid's toy, he got a lot of pleasure out of it. I don't know how anyone could stoop so low as to steal something like that.
"At first, I thought it was maybe just a drunk, who had lifted it for a bit of fun and had left it nearby, but there's no sign of it.
"It was a birthday present from his aunt. We live in a good area, we shouldn't be at the point where we can't leave toys in the back garden overnight."
The small green trampoline, which has a large hooped handle, was left outside the family home on Saturday night.
However, when Mr McIntosh left to go to work on Sunday morning, it was missing after the perpetrators apparently reached over the wall to take it.
Family members have spent the last two days searching streets near the Forres home in the hope it might have been abandoned nearby.
Instead of reporting the incident to the police, the family is hoping their emotional appeal will lead to Jonathan being reunited with the item.
Mr McIntosh added: "Whenever Jonathan goes outside, it's to play on the trampoline. He liked to just sit on it with his juice and crisps.
"It has been out there for six or seven months and then overnight it was just gone. The police wouldn't be able to get anywhere with it, but we just want it back."