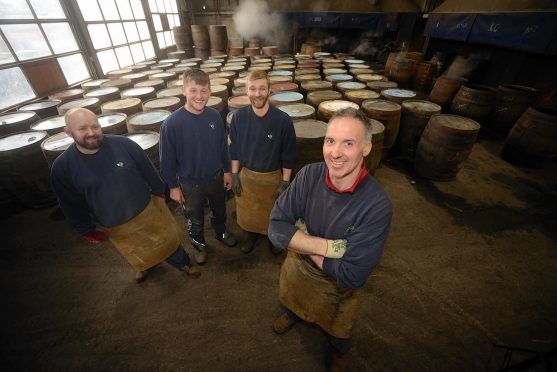 Workers in one of Moray's most traditional industries are preparing to make history by setting a new world record.
Four employees at the Speyside Cooperage, outside Craigellachie, will pit their skills against one another on Saturday.
They will be tasked with assembling a barrel, capable of holding 190 litres of whisky, in just seven and a half minutes.
The 28 staves and various metal hoops, required to raise the casks, will be laid out beforehand, and the first cooper who completes the task will be immortalised in the Guinness World Records.
Brent Bowie, Davey McKenzie, Kyle Cooper and Calum Lawson put themselves forward for the challenge and have been preparing for it during the last few weeks.
Yesterday, the four men explained the time-honoured practice which they are hoping to carry out in record time.
The craftsmen will hammer the steel hoops into place around the curved staves, before fitting lids on and sealing the edges by jamming reed into place.
Mr Bowie said: "Every cooper has their own different ways, but we are working against the clock regularly anyway, trying to build as many as 30 casks every day.
"What we are doing on Saturday is out of the ordinary, but I would like to think we will finish the casks well within the set time limit."
After the barrels have been made, each will be tested to see if it is watertight and any that fail will be discounted.
Visitor centre manager, Gill Reid, came up with the idea as a way of marking a pair of landmark anniversaries taking place this year.
She added: "These guys work at lightning speed every day, so I researched it and couldn't believe there wasn't already a record for the fastest time.
"So we won't be breaking a record, we will be setting one.
"Guinness receives thousands of requests every month, and only accept two or three, so I was delighted when they liked the idea.
"This year marks the 25th anniversary of the visitor centre and the 70th of the cooperage itself, and we wanted to celebrate our coopers."
The event will take place as part of the Spirit of Speyside Whisky Festival celebrations, and 300 people are expected to pack into the warehouse to spectate on the record attempt.