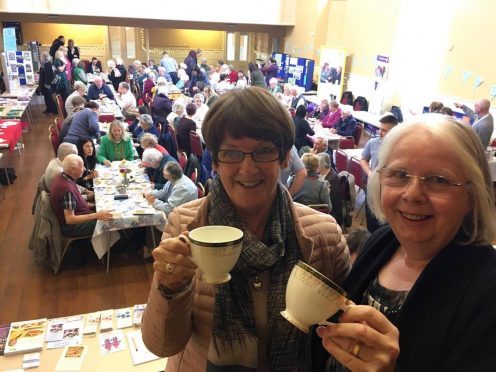 Lossiemouth Town Hall was transformed into a large-scale tea room yesterday, when more than 100 pensioners packed into an event aimed at cutting down on social isolation.
The "vintage tea" party was organised as part of an ongoing drive to keep people "healthy and happy" in the later stages of their lives.
Attendees, aged 60 and above, crowded around tables and chatted happily as they learned about the various activities on offer for older people locally.
Personnel from RAF Lossiemouth were enlisted to serve up fancy pieces and pour out dozens of cups of tea.
Representatives from various community groups and charities flocked into the hall, and representatives gave speeches encouraging those present to "celebrate old age".
Elgin-based Ann Earle, 69, said: "People are living longer and longer, and we need to work out how to enjoy that longer life. Keeping connected with our local communities is very important."
Carmen Gillies, from Moray Council's health and social care department, helped organise the get-together.
She added: "This is all about keeping people healthy and happy as they grow older and we want to showcase what is available locally.
"We had a few friendly faces going around the tables to speak with everyone, and find out what we can do to help them and what their priorities are.
"One of our main objectives is to tackle social isolation, we want to keep everyone connected."
Mrs Gillies explained that similar gatherings had already taken place in Fochabers, Elgin, Forres and Keith.