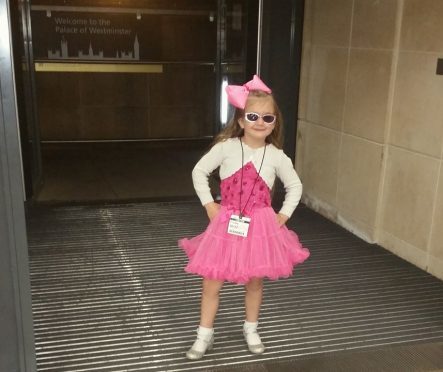 An Elgin six-year-old has received praise in parliament for defying her own illness to help other poorly children.
Lucy Stewart was commended by the area's MSP, Richard Lochhead, after storming to success at a recent community awards event.
The youngster has raised more than £2,000 for a children's charity and, over Christmas, delivered toys to sick children forced to remain in hospital over the festive period.
Lucy has a tracheoesophageal fistula – an abnormal connection between her esophagus and the trachea – and oesophageal atresia, whereby the upper part of the esophagus does not connect with the lower esophagus and stomach.
The conditions, which usually occur together, mean that she has spent much of her young life in hospital.
She had to battle to overcome a pair of collapsed lungs, and suffers from chronic lung damage.
But the youngster has managed to stage fundraising tombolas, raffles and a bingo night – and even collected cash by asking people to guess the birthday of her teddy bear.
Lucy also ran a sponsored 5K race in Glasgow – with some help from her mum and granny.
She was recently given a special commendation prize at the Moray Community Awards.
Mr Lochhead yesterday lodged a motion at Holyrood calling for the government to congratulate Lucy along with other winners.
Speaking afterwards, he said: "Lucy is a fantastic example of what a volunteer can do and achieve, her story is truly inspiring.
"She has thought of others by taking gifts to the hospital for other children while not being very well herself.
"It is only right that her achievements, and those of all volunteers in Moray, be recognised by the Scottish Parliament and I am delighted to submit a motion doing just that."
Lucy's mum, Claire Stewart, last night said that her daughter had no intentions of resting on her laurels.
She said: "Lucy has now set up a Facebook page selling bags of sweets, and is getting a few orders there.
"She has spent so much time in hospital that she just wants to give something back to everyone who helped her."
Cash can be pledged towards Lucy's ongoing collection at www.justgiving.com/fundraising/Lucy-Stewart9
The money will go towards the ARCHIE Foundation, and will go to improving life for young patients at the Royal Aberdeen Children's Hospital and their families.