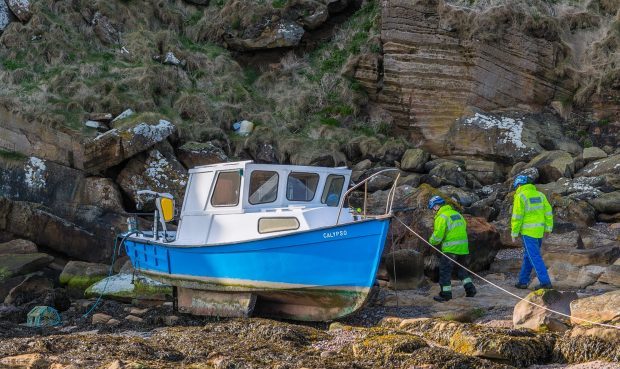 A fishing boat has been marooned high on rocks off the Moray coast after losing power out at sea and drifting ashore.
It is understood that owner William Innes had taken the Calypso out to collect creels on Sunday night when it ran into trouble between Hopeman and Covesea.
The boat eventually ran aground along the stretch of rugged coastline, where it still remains.
Yesterday, coastguard crews carefully scaled down 200ft cliffs to reach the stricken vessel and remove potentially dangerous equipment from it.
A spokesman explained: "Our men routinely remove items such as flares from boats in this condition, so that they are not accessible to the general public and can not get stolen.
"They were also carrying out an update on its condition, and got photographs which we can examine.
"The vessel will remain in situ until the owner has arranged it to be taken away."
The boat, which is normally berthed at Hopeman harbour, drifted onto land between Sculptor's Cave and Clashach Cove.