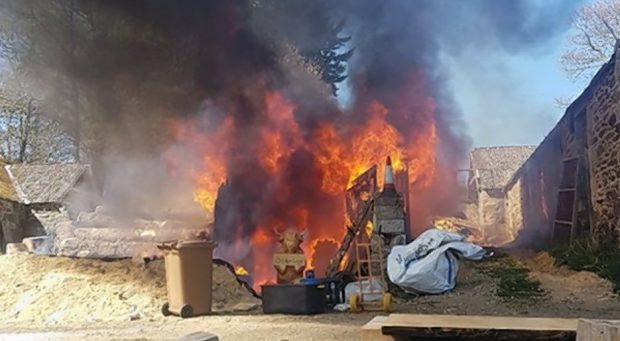 A Moray craftsman has vowed to rebuild his business after £20,000 of stock and equipment was destroyed in a fire.
Garry Shand could only look on in shock as his workshop on the outskirts of Keith was reduced to cinders.
The chainsaw carver described seeing flames shooting 40ft into the air as the business he worked for a decade to build went up in smoke.
It is understood the fire took hold on Tuesday afternoon after a gas canister exploded, and tore through the wooden building within minutes.
But Mr Shand said he regards himself as "lucky", because firefighters prevented the blaze from reaching the home he shares with wife, Heather, and their 10-year-old son Bobby James.
As the 37-year-old surveyed his ruined workshop yesterday, he relived the moment he watched it burn.
Mr Shand said: "I had just popped into the house when I heard a whistling noise, which I now know was a gas valve, followed by a roaring sound.
"When I went and looked there were flames 40ft in the air and absolutely everything was on fire.
"Workers in a field came rushing and kicked the door of my house in to check I was at home and not in my workshop.
"By then there was nothing I could do but stand and watch it all burn."
The fire service confirmed that six engines attended, and that crews used high-power hoses to extinguish the blaze.
Mr Shand added: "I am a lucky boy though, had the wind been blowing then my house would have gone up too."
Having always had a passion for art, Mr Shand got into wood sculpting while working as a forester.
He says it is only in the past two years that he has been able to turn a profit from the pursuit.
But he said recent orders worth £8,000, had now been left in ruins.
He added: "I had been working on jobs for Stirling Council, carving a model of the Wallace Monument and a bench engraved with Stirling Bridge, but they have been ruined."
And he estimates that tools worth £12,000 have also been destroyed.
Mr Shand's step-daughter, Stephanie Davidson, has since launched an online funding appeal to help him restock.
He revealed that carvers from across the planet had reached out to him since the blaze with offers to send him replacement tools.
And Mr Shand says he is determined to return to work by the end of the week.
He added: "I'm just stunned at the support I've received, and I'm determined that I will find a way to fulfill my orders."
Money can be donated online at www.justgiving.com/crowdfunding/garryshand