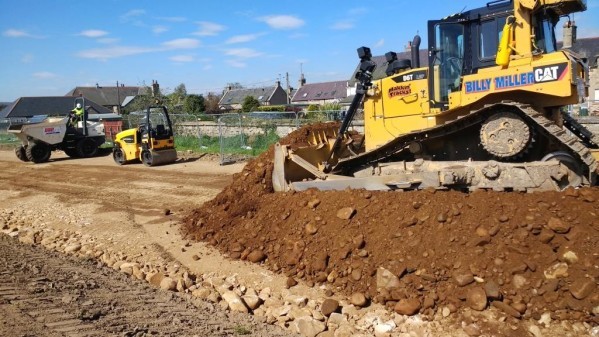 Moray villagers have spoken of their relief as a huge project, designed to reduce the flood risk to their homes, nears completion.
Properties in Dallas suffered more than £600,000 of damage when the River Lossie burst its banks in 2014 and sent water streaming through the streets.
Almost 30 homes were swamped internally and another 12 received exterior damage in what was the village's worst flooding event in living memory.
in the three years since it happened, residents have been anxious whenever heavy rainfall has caused the river to rise.
However, Moray Council yesterday confirmed that those worries will soon be alleviated, with a £300,000 prevention scheme on the brink of being completed.
The project involves the creation of an embankment between the river and the village which is 480 yards long.
It is anticipated that the work will be completed within the first few weeks of June.
Heldon Community Council member, Neil Sutherland, lives in Dallas and witnessed firsthand the devastation that was wrought upon the village.
Mr Sutherland said that residents were looking forward to the "peace of mind" the prevention scheme will give them.
He added: "This will be a source of relief and reassurance for people in Dallas A I'm quite optimistic this should work.
"What happened in 2014 was devastating for a lot of families.
"I remember something similar in 1961 which was bad, but didn't compare to the more recent flooding.
"Since then there has been a lot of anxiety when there has been heavy rain.
"Once this scheme is up and running it will ease villagers' minds."
The River Lossie burst its banks at Dallas in August 2014 after 12 hours of constant rain during Hurricane Bertha.
Water rushed down the village's Main Street "like a river" during the chaos.
The following year, plans to safeguard Dallas from the risk of flooding came before the local authority's policy and resources committee.
In March 2015, councillors agreed to devote £150,000 towards studies on how best to protect the village and six other "at risk" sites.
That October, an agreement to commence protection works at the village was reached.
And work on the flood scheme began last month.