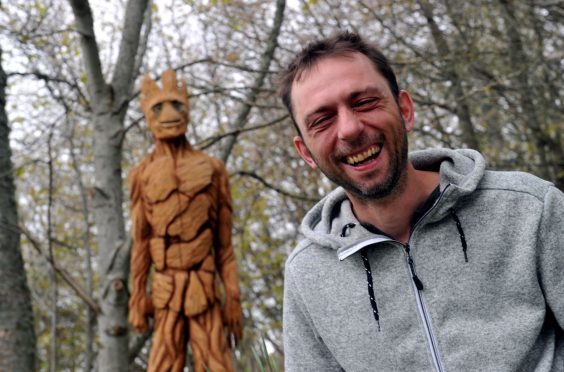 A Moray craftsman is back in business less than two weeks after his workshop was reduced to cinders.
Garry Shand lost about £20,000 worth of stock and equipment in a fire at his Drummuir base near Keith earlier this month.
But the 37-year-old is already back sculpting after an overwhelming response from well-wishers from across the world moved by his plight.
In the aftermath of the fire, Mr Shand was reduced to picking through the rubble to salvage his tools.
Chisels and saws retrieved from the charred remains need to be sent away for repairs.
However, just days after the blaze Mr Shand started receiving boxes of tools from fellow carvers spread across the world.
Customers that bought charismatic wooden sculptures up to five years ago have joined friends in pledging more than £3,500 to help the popular artist back on his feet.
Last night Mr Shand praised the "brotherhood" between craftsmen that had allowed him to get back on his feet.
He said: "It happened almost straight away. First of all my carving buddies got in touch and then two days after it happened boxes started appearing with grinders and tools in them.
"It's quite overwhelming and touching to know that there are people out there who are willing to help.
"I'm self-employed, if I'm not working then I'm not earning. Usually I keep back-up tools for emergencies but I lost them in the fire too.
"I don't know what I would have done if people hadn't got in touch."
Six fire engines were scrambled to the Drummuir blaze that shot flames up to 40ft in the air.
Mr Shand estimates he could have lost up to a month's worth of work due to products being destroyed and the time taken to get back to his tools.
But despite his livelihood being reduced to ashes after a gas canister exploded one of his primary concerns was to ensure he did not let anyone down.
He said: "I wanted to get back to work as soon as I could because I had orders waiting to go. Everybody has been remarkably
patient and understanding though."