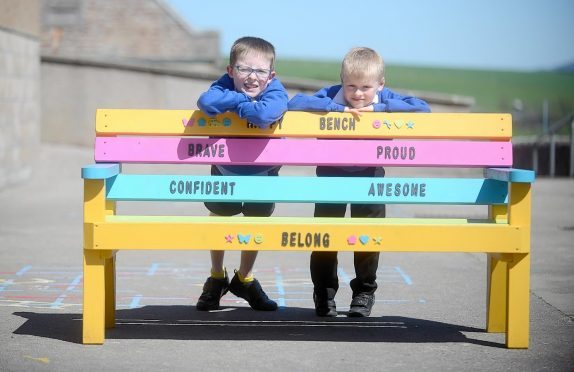 A Moray youngster was inspired by some of history's most famous inventors to build a bench aimed at keeping his classmates' spirits up.
Craig Dick came up with the idea of the "happy bench" – which would lift people's moods when they sit on it – while learning about Thomas Edison.
The 10-year-old made a miniature version of the invention using lollipop sticks to show his classmates at Newmill Primary School, outside Keith.
But the colourful creation inspired his mum to turn Craig's dream into a reality – and the pair spent months making a full-size replica.
The bench has now become a popular feature in the grounds of the small village primary school.
It has been painted yellow, pink, green and blue and features words intended to inspire children when they are feeling down in the dumps.
Craig decided to adorn the bench with positive words like "brave", "proud", "confident" and "awesome".
Head teacher, Rachael Smith, suggested the word "belong" be included on the bench to represent the school's ethos.
She said: "The school puts a lot of emphasis on our pupils being kind to each other, and on being happy.
"Craig made the model bench out of lollipop sticks in the library but his family and friends later decided to make it a reality to brighten up the playground.
"Craig has kept a wee scrapbook documenting the process of making the bench, and it will be here for years after he leaves.
"We are really proud of him and imagine the bench will help cheer up children for a long time to come."
The P5 pupil says he drew on Thomas Edison, the inventor of the lightbulb, for inspiration because Mr Edison encountered many problems before striking upon his bright idea.
Craig has also begun producing "positive thought" jars for people to collect messages about things that make them happy.
He gave one to neighbour Adeline Reid, who has been using it at meetings of the Keith Cancer Link support group.